Hiding Victoria
DVD Release:
January 10, 2007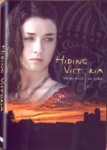 Synopsis
Hard as nails, 22-year-old convicted felon VICTORIA WALKER is given a tough choice by a judge: "stay clean and get a job or go to jail".
Victoria's bad attitude and demeanor slams the door on all her job opportunities except for a helpmate position with a wealthy, elderly Palm Beach woman, ALTHEA JAFFREY, age 70, who takes an unusual liking to Victoria and hires her on the spot beginning a relationship between two women that are worlds apart.
The unconditional love of Althea peels away the hardness in Victoria, allowing her to reveal her dark and secret past, while the persistent and confrontational Victoria discovers that Althea has been hiding from a painful, secret past as well.
These two women, once with little in common, find themselves at the same point in their lives; discovering that a key to life is the power of forgiveness.
Dove Review
"Hiding Victoria" is a very dramatic movie about forgiveness. When a young woman is ordered to clean up her "act" by a judge, she shows a cold disrespectful attitude to the judge and everyone she comes in contact with even the parole officer that is trying so hard to help her. But when Victoria goes to an interview for a job as a companion for Althea, the older woman sees something that no one else can see.
Sometimes when we look at people we are distracted by their outward appearance but never really see the struggles that brought them to this point in their lives. Althea and Victoria both have something in their past that has hurt them to the core, even Victoria's parole officer has a secret. But with time also comes a healing process that starts with forgiveness. This is the one thing that Althea can help Victoria learn how to do. It is a story of how people sometimes get caught up in a terrible situation and think there is not way out, so they turn to a life of drugs, alcohol, and the ways of the streets to survive. But what they have the hardest time doing is forgiving not only of others but themselves as well. God forgives us of our sins but we are harder on ourselves then He is. This film contains some harsh content but carries a message of hope and forgiveness. We are pleased to award "Hiding Victoria" our Dove "Faith-Based" Seal with
Info
Company:
Hiding Victoria Productions, LLC
Industry Rating:
Not Rated