Deletes
DVD Release:
July 30, 2013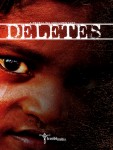 Synopsis
DELETES uncovers daily life for the 250 million Dalit people of India. Living in complete poverty and facing daily abuse from society and government, Dalits fight for things that we take for granted and often pay the ultimate price.
Dove Review
This documentary takes a realistic look at what Christians in India go through for their faith. They are treated harshly and the worst case scenarios include genocide.
A group of people attempt to help them so they can live with dignity. We see naturalistic nudity for a few seconds, a young boy and girl, in addition to no more than a couple of seconds of photos of corpses which are nude. The documentary focuses on the Christian's faith and the price they pay for it. Homes are burned, people are kidnapped and murdered according to the documentary and yet they hold on to their faith despite the persecution.
We are recommending this documentary for our "Family-Approved" Seal for ages twelve plus. The meaning in this one is powerful, that some people will hold on to their Christian faith no matter the cost.
Info
Writer:
Brent Martz and Jon Van Dyke
Industry Rating:
Not Rated
Reviewer:
Edwin L. Carpenter