Identity Thief
Theatrical Release:
February 8, 2013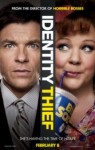 Synopsis
Unlimited funds have allowed Diana to live it up on the outskirts of Miami, where the queen of retail buys whatever strikes her fancy. There's only one glitch: The ID she's using to finance these sprees reads Sandy Bigelow Patterson and it belongs to an accounts rep who lives halfway across the U.S.
With only one week to hunt down the con artist before his world implodes, the real Sandy Bigelow Patterson heads south to confront the woman with an all-access pass to his life. And as he attempts to bribe, coax and wrangle her the 2,000 miles to Denver, one easy target will discover just how tough it is to get your name back.
Dove Review
When a man's identity is stolen by a woman he goes in search of her to bring her back to the police so she can clear his name. Along the way they become friends and share some touching moments. Unfortunately, the trip is interrupted by some drug dealers and a bondsman who are also after the woman. This road-trip genre typically includes foul language and sexual encounters and this film doesn't stray too far from the formula. I lost count of the various crude and profane words within a half hour of the picture. There were also so many sexually charged situations that I became uncomfortable with the situations quickly. It is really too bad because the basic premise was funny as were some of the scenes. However, due to the explicit content we cannot consider this to be a family film.
Content Description
Violence:
Woman has a habit of punching others in their throats several times; Car chases and crashes; Man shot in leg; Woman shot in foot; Man's ear shot off; Man and woman fight physically several times
Sex:
Overt sexually charged dialog throughout; Husband/wife kiss a few times; Man and woman have sex in strange positions while another man is in the bathroom - nothing is seen but the act is graphic;
Violence:
Woman has a habit of punching others in their throats several times; Car chases and crashes; Man shot in leg; Woman shot in foot; Man's ear shot off; Man and woman fight physically several times
Drugs:
Woman takes another's prescription pills; Woman drinks to drunkenness twice; a few bar scenes; Man/woman have wine with dinner
Info
Company:
Universal Pictures
Writer:
Craig Mazin & Jerry Eeten