Cars Life 3: The Royal Heist
DVD Release:
April 23, 2013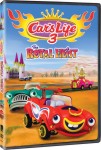 Synopsis
Queen Limousine is coming to town to attend a charity drag race, and everyone's caught royal fever, even Sparky. But the excitement turns to dread when the queen's jewels go missing, and every car becomes a suspect. Join the world's favorite little red sports car on a turbocharged whodunit adventure that packs more hairpin turns than an Alpine speedway – and a shocking final twist that no one sees coming!
Dove Review
Her Royal Limo is coming to visit and there is going to be a race. There is a lot of excitement but when Sparky gets picked to help get things ready for her Majesty's' arrival, he doesn't get much time to practice for the race. A bigger problem arrives when the crown jewels are stolen and everyone is suspect especially Sparky who was suppose to be guarding the Queen.
This charming animated movie is the third one in the "Cars Life" series. As always each contains a story about these lovable vehicles that have their own personalities. They also teach many valuable lessons for your youngsters to learn from. The lessons in this DVD are about not judging someone without first getting the facts and the truth, communication is important for relationships, listening to others and what you want to be when you grow up may change from time to time but it is important to have dreams for the future. We award our Dove Seal to this movie for all ages.