Home Run (Novelization)
Book Release:
March 1, 2013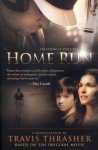 Synopsis
Baseball star Cory Brand knows how to win. But off the field, he's spiraling out of control. Haunted by old wounds and regrets, his future seems as hopeless as his past.
Until one moment—one mistake—changes everything. To save his career, Cory must go back to the town where it all began. His plan is simple: coach the local Little League team, complete a recovery program, and get out as fast as possible. Instead, he runs headfirst into memories he can't escape … and the love he left behind.
Faced with a second chance he never expected, Cory embarks on a journey of faith, transformation and redemption. And along the way, he discovers a powerful truth: no one is beyond the healing of God.
Based on the motion picture starring Vivica A. Fox and Scott Elrod, Home Run is an inspirational story of the hope God offers each of us.
Dove Review
I enjoyed "Home Run" so much that I read it in one sitting! The story immediately drew me in, and I found myself rooting for the deeply troubled protagonist to turn his life around. On the outside Cory Brand seems to have it all: money, fame, success, women. But on the inside, he is alone and severely broken.
Just when I thought he was a hopeless cause, Cory began to break through. I appreciated that the author accurately portrayed the desperation and destruction of the character's alcoholism and rage without divulging explicit details. The author also didn't oversimplify the protagonist's recovery, nor did he apply a "Jesus bandage." You see Cory's hard work, his fledgling faith, his missteps, and his gradual life change.
Through the surrounding characters, you understand the heartache and hopeless feelings of those who love an alcoholic, as well as the reality that only God can reach him. As Cory asks for forgiveness and does the hard work of recovery and rebuilding trust, his family and support group surround him with love. "Home Run" is a well-told story of suffering and loss and the power of God's love and forgiveness.
We heartily recommend this story of forgiveness, healing, and redemption and are pleased to award it our Dove "Family-Approved" Seal for ages of 12 and over. While themes include alcoholism and drinking occurs, it is never portrayed in a positive light and consequences are obvious.
Info
Industry Rating:
Not Rated