Paper Dream
DVD Release:
February 5, 2013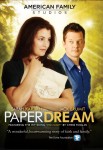 Synopsis
Christy had a dream…. For as long as she can remember Christy Davis has wanted to be a mom, but things haven't worked out the way she imagined them. When hopes of getting pregnant fall through, she and her husband Matt turn to adoption, but will that be enough to fill their longing for a child?
American Family Studios is proud to present a story of hope in the midst of difficult circumstances. Do unfulfilled dreams define who we are, or is God enough to give us fulfillment?
Dove Review
This is great story! It makes the point that sometimes our dreams come in forms we would not have thought of. In this case Christy Davis wants to be a mom but can't have children. She and her husband Matt try adoption. Despite various tests and trials in their lives and questioning if God cares, they move forward and it is amazing the difference a year can make.
We are more than pleased to award this movie our Dove Seal for all ages although due to the subject matter it would not be suitable for the very young.
Info
Company:
Bridgestone Multimedia Group
Reviewer:
Edwin L. Carpenter