Why Spiders Have Big Bottoms (Illustrated book and Audio CD)
Book Release:
April 1, 2013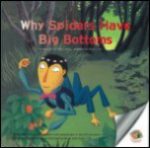 Synopsis
Adapted from the African folktale of "Anansi and the River Spirits" – Anansi first appeared in West African folktales and traveled with the African culture to every part of the earth. Children and adults everywhere like to read about Anansi. Sometimes appearing as a spider, sometimes as a man – Anansi is always entertaining. Anansi is intelligent. However, his greed sometimes causes odd things to happen to him and to those around him. This story tells how Anansi causes all spiders to have a small head and a very large bottom. The book is written in English and Mandarin Chinese.
Dove Review
Dr. Michael Lockett, a charming story teller and Chung Yi-Ru, a wonderful Illustrator, present this cute story book that tells how spiders got such a small head. On one side is the English version or flip it over to read the Chinese version of this delightful bilingual storybook that is accompanied by a CD that will allow your youngsters to follow along as the story is told. Whether they read it themselves or use the CD the story will amuse them. We award this book the Dove "Family-Approved" Seal for all ages.
Info
Company:
Heritage Shoolhouse Press