War Flowers
DVD Release:
July 30, 2013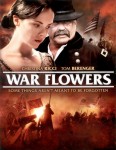 Synopsis
"War Flowers" starring Christina Ricci is a Civil War family-friendly drama of one woman's struggle to keep her family and farm safe while her husband is away at war.
"War Flowers" also features Gabrielle Popa, Jason Gedrick and Tom Berenger.
Dove Review
This is a realistic movie with hope permeating it from start to finish! It is old fashioned in a good way, with realistic characters and problems which audiences of today can relate to. Christina Ricci plays Sarabeth Ellis who raises her daughter Melody (Gabrielle Popa) alone while her husband John is fighting for the south in the Civil War. When a Yankee soldier named Lt. Louis McIntire (Jason Gedrick) is wounded on her property, Sarabeth finds herself nursing him back to health and, believing her husband to be dead as no word on his whereabouts has been forthcoming for months, she finds herself caring for Louis.
The movie nicely features scriptures on screen every so often such as a passage from Ecclesiastes chapter eleven about mortal man not being able to understand the work of God and other passages which reflect on hope. A leader that has lost two sons tells his surviving son that his brothers sit next to Jesus. Added to the sorrows Sarabeth and Melody have experienced is the loss of Sarabeth's son, Melody's infant brother Isaac.
Sarabeth as played by Ricci is a compassionate woman of faith who has some spunk and protects her daughter and stands up to her threatening neighbor Rufus.
This film features themes of the hardships of war and forgiveness and the hope for a new dawn following a previous night's storm in one's life. When Sarabeth's belief regarding her husband John's death is confirmed, her next challenge will be to either move on without Louis as he prepares to leave or to find a way to keep the hope alive that they may be able to be together. We are happy to award this picture our Dove "Family-Approved" Seal for ages twelve plus. This one is well worth your viewing time!
Info
Company:
Green Apple Entertainment
Reviewer:
Edwin L. Carpenter