Come Dance With Me
DVD Release:
October 15, 2013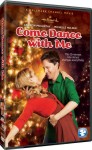 Synopsis
Jack (Andrew McCarthy) is an executive in a financial brokerage firm trying to impress the firm's president, Drew Clayton (Chris Gillett), in hopes of a promotion. However, Jack is dating the fabulously rich and elegant Demi Clayton (Stephanie Mills), who happens to be Drew's daughter. Although Demi's mother Clarisse (Jane Moffat) doesn't necessarily approve of Jack and would prefer her daughter to date a man within their social circle, Jack still plans on proposing. Trying to create the perfect proposal Jack signs up for dance lessons in preparation for his proposal to Demi at her father's lavish annual Christmas Dance. But when sparks start to fly between Jack and his dance instructor, Christine (Michelle Nolden), Jack will have to make some important decisions before it is too late.
Dove Review
Jack's life is right on track. He is working hard for a promotion, dating the boss's daughter and on the verge of making a deal for a big contract. Plus he wants to propose to Drew at the Christmas party. He has just one thing to get into order and that is he needs to take dancing lessons so that everything goes without a hitch.
Unfortunately he does not see what is coming when he finds that his dance instructor is very charming and needs his advice on some financial problems. When it comes to Christine, he has to find a way to help her without letting her know who he really is. But that is not the only problem that he may have to tend with.
A love story for young and old alike, we award this story the Dove "Family-Approved" Seal for all ages.