Tyler Perrys Temptation
Theatrical Release:
March 29, 2013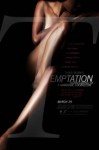 Synopsis
A bold exploration of the intrigue and perils of infidelity, Tyler Perry's Temptation: Confessions of a Marriage Counselor is a compelling love story that dives straight into the heart of obsessive passion. "It's about a woman who starts to get restless in her relationship and her choice to be with another man has a huge effect on the rest of her life," explains screenwriter/producer/director Tyler Perry. "She goes on a journey – in her career and in her marriage – and she ends up in a very different place than she expected." In a departure from his previous dramas, this explosive film finds Perry exploring the nature of desire – and just how powerful and dangerous a taste of the forbidden can be. "This is definitely one of the most provocative movies – sexually and otherwise – that I've made," says the director. "There are a lot of people who struggle in their relationships. They make bad choices about their marriages. They get divorced. And so many of them don't step out of their situation and really think about the consequences of what they're doing. This movie asks, 'Are you sure you want to do this?' It sends up a flag."
Dove Review
Tyler Perry's script and story manages to be entertaining but the content in the sex and drug categories unfortunately put it over the top and outside of Dove's acceptability level for family viewing.
The film opens with a marriage counselor named Judith (Jurnee Smollett-Bell) talking to a woman that has been having an affair. Judith begins to tell a story about her sister that once went down that destructive path, but we soon learn it is not actually her sister she is talking about.
In a flashback we see a younger Judith and her husband Brice (Lance Gross) and learn they met when she was just six years old and now they have been married for six years. He works as a pharmacist and she wants to be a marriage counselor, although she currently works for a business which matches up men with women, a dating service ran by a woman named Janice (Vanessa Williams). She winds up working with a dashing young rich man named Harley (Robbie Jones). He likes her immediately and begins a steady effort to seduce Judith. Brice is good to Judith but tends to overlook some things, including her birthday. When Judith eventually gives in to Harley's seduction, her world soon comes crashing down, especially when her new lifestyle includes drinking, snorting cocaine, and leaving a teary eyed Brice behind. All the actors are on in this film, and Lance Gross is terrific as the heart-broken true-blue husband.
The movie makes a point that a faith in Jesus helps and that there will always be reaping for one's sins. It is good to hear the woman Judith is counseling in the beginning of the film say at the end of the movie she is stopping her affair. Still, with the affair of a married woman and the drug sniffing, we cannot award this film our Dove "Family-Approved" Seal.
Content Description
Violence:
Man slaps woman a few times, punches her; woman with bloody marks on face; man punches man a few times and gives him a bloody mouth; man shoves woman down.
Sex:
Passionate kissing; an affair between a married woman and a single man; man tells married woman he wants to make love to her; steamy bath tub scene with no nudity; a comment about a madam; a woman learns she has HIV.
Violence:
Man slaps woman a few times, punches her; woman with bloody marks on face; man punches man a few times and gives him a bloody mouth; man shoves woman down.
Drugs:
A man gives a woman cocaine to snort and she does; several drinking scenes including wine and beer; woman gets drunk.
Info
Reviewer:
Edwin L. Carpenter