G.I. Joe: Retaliation
Theatrical Release:
March 28, 2013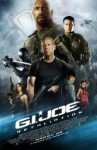 Synopsis
Framed for crimes against the country, the G.I. Joe team is terminated by the President's order, and the surviving team members face off against Zartan, his accomplices, and the world leaders he has under his influence.
Dove Review
The G.I. Joe team is back in force (well at least in the beginning of the film). Cobra has a plan to take control of the world and it is the remaining Joes' job to stop them. This film was very violent with almost non-stop fighting but surprisingly little blood. Action fans will appreciate the special effect and aerial combat scenes but the violence is simply over the top for a family film. In addition, a character utters one phrase using the name of Jesus in an inappropriate manner (not very Joe like). Due to the content listed in our content description section and because their is little moral value to the film, we cannot award a Dove Seal to this picture.
Info
Writer:
Rhett Reese & Paul Wernick