Jacob On The Road
DVD Release:
June 4, 2013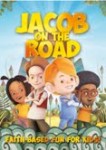 Synopsis
Jacob and his adventurous friends sneak away during a class trip to the museum and encounter a group of monkey mannequins in a showcase. But these are not ordinary monkeys or mannequins. Jacob is quickly drawn in to a mysterious monkey world and a debate about the origin on the human species. Along the way Jacob meets Jay, a museum security guard who doubles as a guide for wandering children in the would of the mischievous monkeys. Can Jay help Jacob find a safe way out of this crazy mess? Let's find out as we follow JACOB ON THE ROAD
Dove Review
This wonderful animated movie makes the point that God created His children and that the teaching of evolution is just a bunch of monkey business! Various scenes including those outside a church near an iron gate and the inside of the church are beautifully animated. A young man named Jacob believes that monkeys were our ancestors and a couple of Christian kids disagree with him.
When a night guardsman falls along with dinosaur bones toward Jacob standing at the bottom of the animal museum suddenly Jacob has a dream about monkeys worshipping money and the god of Mammon and only when a young boy named Jay comes to his rescue and Jacob has the dream does he realize that God indeed created His children. With parental or teacher guidance, this could be utilized as a fun tool for Christian Education or Sunday school. We are pleased to award our Dove Seal for all ages to this imaginative DVD.
Info
Company:
Bridgestone Multimedia Group
Industry Rating:
Not Rated
Reviewer:
Edwin L. Carpenter