My Uncle: The Alien
DVD Release:
July 5, 2005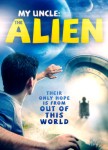 Synopsis
While visiting a youth center in Los Angeles, the President's daughter, Kelly Sullivan, learns that funding for the program has just been cut. Worried about her less fortunate friends, Kelly sneaks past Secret Service to go for help. But when her car crashes and a pair of crooks, Ratt and Skeeter, see an opportunity to make some money, they capture Kelly and hold her for ransom. Now the entire nation is looking for her, including her parents and a street kid named Zig. Fortunately, Kelly knows just who to call when she's in trouble, and this time, help is coming from out of this world. It's Uncle to the rescue!
Dove Review
"My Uncle: The Alien" is a story of an interesting nature. A daughter lets it slip she has an uncle not of this world. Everyone thinks she is a little crazy or has a very active imagination. But when Kelly tries to help a youth center and gets taken by a con artist there are a series of unexplained things that begin to happen.
This film has an off-beat sense to it with slap-stick funny incidents. The entire premise of an uncle that is an alien is in itself funny but the action is a bit to be desired in this movie. It can be viewed by the entire family but I have to warn you that there is a lot of name calling such as "moron". But it does show that a child's imagination can be wonderful but too many outgrow it. This movie is awarded the Dove "Family-Approved" Seal for all ages.
Info
Company:
Echo Bridge Home Entertainment
Industry Rating:
Not Rated