Gods Little Snowball (Illustrated)
Book Release:
January 9, 2013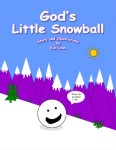 Synopsis
We live in a fast-paced world, and often, we roll too fast for our own good. What do we do when we're lost, stuck and can't find our way? What often happens when we move in such haste? What might happen when we lean on our own understanding before looking to God?
Roll down the mountain with Esbee, who often leans on his own understanding while rolling too fast for his own good. Meet Esbee's snowball friends Joseph, Moses and more, as they help point Esbee in the right direction. Share in Esbee's passion and frustration, but also feel and experience God's unending love for His little snowball as He molds, shapes, restores and guides Esbee towards his purpose.
There's a little Esbee in all of us. Are you ready to roll down the mountain?
Dove Review
God has created all of us but in this story He created the little snowball Esbee. As he rolls on in his life, Esbee comes across obstacles that he has to learn from. But he must rely on help from God to help him make the right decisions and choices.
This book is well illustrated and at the end of each section of the book there are two questions that will help with discussion about Esbee's journey and compare his journey to our own lives. This is a wonderful storybook for everyone. It will also help teach about the great love that God has for our lives.
We are proud to award this storybook the Dove "Family-Approved" Seal for all ages.