Treasure State
DVD Release:
December 3, 2013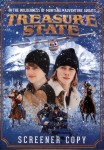 Synopsis
The Hogues and the Stantons have feuded for decades and their sons Levi Hogue and Trey Stanton are happily continuing the family tradition. The two teenage boys are constantly fighting and competing with one another, rivals to the bitter end. Or so they think until an airplane carrying a cargo of great importance crashes in the snow covered mountains of Montana, sending the boys on an adventure that will change the course of their lives forever.
When the wealthy owner of the lost cargo offers a substantial reward for its recovery, Trey sets out to find it and make a fortune, completely unaware that Levi has the same plan in mind. Levi turns out to be the least of his concerns though when two villains arrive on the scene with nefarious plans of obtaining the precious cargo for themselves.
Levi and Trey must put their differences aside and join forces in order to stop the bandits and survive the rugged and brutal wilderness known as the Treasure State.
Dove Review
Forgiveness is possible between long feuding families! That is the message of this film. It centers on the Hogues and Stantons, particularly Dan and Bill and sons Levi and Trey. When a plane crashes carrying special cargo, the boys learn a $100,000 reward is being offered for retrieving its contents. Both boys go after it and find they have to work together to make the dream of receiving the reward money come true. When the boys go missing, Dan and Bill, near blows earlier, search for them together and wind up opening up about their past and the mistakes that were made.
A few bumbling criminals are thrown in for good measure, brothers, and the one silent brother that is always abused has his moment when he finally has had enough. The movie features a few laughs in addition to the redemptive theme and focus on forgiveness. We are pleased to award this movie our Dove "Family-Approved" Seal for ages twelve plus.
Info
Company:
Green Apple Entertainment
Industry Rating:
Not Rated
Starring:
Judah Justine
,
Solomon Ray
,
Robert Bear
,
Colton Christensen
,
Larry Laverty
,
Ron Wilson
,
Crystal Lewis
,
Karen Dunham
,
Lillith Fields
,
Jake Bramante
,
Liam Justine
Reviewer:
Edwin L. Carpenter