Home For Christmas (2013)
DVD Release:
October 15, 2013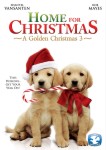 Synopsis
Love for Christmas is the story of two people who have a long history of picking the wrong person. Heather (VanSanten) is a charming free spirit whose self-absorbed fiancé Roger (Famiglietti) never seems to hear a word that comes out of her mouth. Bobby (Mayes) is a naval officer who comes home from serving overseas, looking to start a new chapter in his life. Both Heather and Bobby long to meet someone who makes them feel like they are at home in this world, but they are starting to doubt that person exists.
Thanks to two Golden Retrievers, Bobby's spirited eleven-year-old niece Myra, and a fun-filled theater production of "A Christmas Carol," these two unlucky and unlikely people end up falling in love at Christmas. But can they overcome the issues of their past and present in order to build a future together? This is a heartwarming Christmas romance about love, loss, hope… and how a puppy can turn even the most unlikely Scrooge into a true believer.
Dove Review
Here is a charming movie about love at Christmas time. Bobby has been away from home for years and looks forward to being home for good especially at Christmas. Heather on the other hand wants some changes in her life, needs to "dump her present boyfriend" and wants to go to New York to direct. But when there is a chance meeting between the two, will there be a change in plans for both of them.
With the help from Bobby's niece and Heather 's best friend the two find themselves thrown together to rediscover the feelings they had when they were in the 6th grade. But are their lives going in different directions so that the two cannot merge? "Home for Christmas" is more of a chick flick but can be enjoyed by the entire family. It is a wholesome comedy about love and romance. We are proud to award this film the Dove "Family-Approved" Seal for all ages.