Race for Glory
DVD Release:
August 6, 2013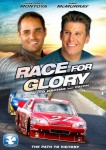 Synopsis
Stock car racing is one of America's most popular sports with more than 75 million fans nationwide, and growing. For many racers, the winning values of team, family and faith inspire them on and off the track. Featuring never-before-seen interviews with some of the sports' most popular personalities – including Danica Patrick, Juan Pablo Montoya, Jamie McMurray and Chip Ganassi – "Race for Glory" is an in-depth look at the sport's road to victory!
Dove Review
This is a fantastic DVD which sports fans and racing fans in particular will enjoy. The documentary takes a look at the spiritual side of the sport of NASCAR and racing. Several races take place in the south where many of those that drive and watch as fans are Christians.
Various important aspects of the sport are examined including the teamwork involved, and the prayers of the drivers which are more focused on protection from God than for helping them to win. The dangers of the sport are mentioned as well and how that modern cars are designed to be more absorbable and crushable so that the racers lives are better protected. Driver Jamie McMurray says, "I found the power of prayer and it is something that I really believe in."
The documentary is informative as it shares such information as the cars reach speeds of two hundred miles per hour and feature eight hundred and fifty horse power per five hundred miles. The acronym is explained too, that NASCAR stands for the National Association for Stock Car racing. The DVD also features Danica Patrick, a woman NASCAR driver.
This remarkable DVD is suitable for all ages although those eight years old and up will most likely enjoy it more. This is a fun DVD to watch as well as informative.
Info
Reviewer:
Edwin L. Carpenter