Oblivion (2013)
Theatrical Release:
April 19, 2013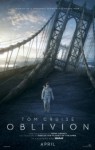 Synopsis
Tom Cruise stars in Oblivion, an original and groundbreaking cinematic event from the director of TRON: Legacy and the producer of Rise of the Planet of the Apes. On a spectacular future Earth that has evolved beyond recognition, one man's confrontation with the past will lead him on a journey of redemption and discovery as he battles to save mankind.
Jack Harper (Cruise) is one of the last few drone repairmen stationed on Earth. Part of a massive operation to extract vital resources after decades of war with a terrifying threat known as the Scavs, Jack's mission is nearly complete.
Living in and patrolling the breathtaking skies from thousands of feet above, his soaring existence is brought crashing down when he rescues a beautiful stranger from a downed spacecraft. Her arrival triggers a chain of events that forces him to question everything he knows and puts the fate of humanity in his hands.
Dove Review
"Oblivion" takes place decades after a war between aliens and earthlings. Even though the earthlings won the war, they are forced to leave earth due to radiation and the severe destruction of the planet's resources. A small team is left behind to clean things up and gather the remaining resources before their departure.
The action in the film is relatively tame by today's standards. While exciting chase and battle sequences do exist, there is little blood. However, there are a couple of violent scenes that are slightly above our approval rating. In addition, the language is completely inappropriate and the near nudity is out of place. Its too bad that the filmmakers chose to pepper their movie with these unnecessary elements which serve to do nothing but distract the audience from an otherwise unique and interesting story. Due to the objectionable content, we cannot award a "Family-Approved" Seal to this film.
Info
Company:
Universal Pictures
Writer:
Joseph Kosinski & Karl Gajdusek