Memoirs of an Angel (Book)
Theatrical Release:
April 15, 2013
Book Release:
February 12, 2014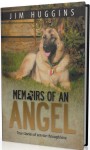 Synopsis
"Memoirs of an Angel" is the compelling story, told in poignant vignettes, of two surprising partners who not only change each other but impact the lives of countless others in unique ways that only God could have orchestrated. Memoirs is a heartwarming, inspiring read.
Dove Review
A touching narrative of redemption and second chances. However bad your past, however broken your present, the story of Jim Huggins and his partner Cadie, a rescued German shepherd, will give you hope that God can still do something beautiful with your story. Whether you think of yourself as an animal person or not, you cannot help but be moved by the impact Cadie makes on everyone around her.
As Jim and Cadie learn to work together, and Jim learns to trust Cadie's incredible instincts, they start a journey that leads them to places they never expected. From dentist offices to schools, they slowly develop a ministry. Cadie, once mistreated and unwanted, becomes a friend to those who are in pain, a shoulder to cry on, and the motivation to try to take one more step.
Readers may at times find themselves hesitant about Jim's theological claims or skeptical of his stories. However, by the time you finish the book it's clear that he is sincere and that he has done the work to back up his unique take on ministry. I for one think we need more people who are willing to minister in unexpected ways, to work with the forgotten, the unwanted, those like Cadie in this world. After all, you never know how many people will one day be blessed because you took that first small step.
Info
Company:
New Shepherd Films
Industry Rating:
Not Rated