Pain and Gain
Theatrical Release:
April 26, 2013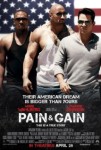 Synopsis
From acclaimed director Michael Bay comes "Pain and Gain," a new action comedy starring Mark Wahlberg, Dwayne Johnson and Anthony Mackie. Based on the unbelievable true story of a group of personal trainers in 1990's Miami who, in pursuit of the American Dream, get caught up in a criminal enterprise that goes horribly wrong.
Dove Review
I have rarely been as offended by the content of a film as I was with this one. The title should be "All Pain and No Gain" because that's what I felt 15 minutes into the film when I walked out of the theater. The beginning of this movie contained more sex, language and drug use than most of the R-rated films I have ever seen. How the MPAA didn't rate this as an "NC-17" film may remain a mystery but frankly it ultimately doesn't matter. The items listed in our content description is what I saw in the first 15 minutes. Needless to say, this is not a family film.
Content Description
Violence:
Man fights in prison with others and smashes weights into one's face and throws a large weight at another: Man punches priest
Sex:
Man/woman have sex on the trunk of a car although there was no nudity, there were multiple gyrations; Man masturbates unsuccessfully; Nurse in clinic make sexually suggestive comments; Priest makes sexual advances toward a man.
Violence:
Man fights in prison with others and smashes weights into one's face and throws a large weight at another: Man punches priest
Info
Writer:
Christopher Markus & Stephen McFeely