Alls Fair In Love and Advertising
DVD Release:
September 10, 2013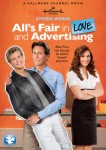 Synopsis
Creative director Tom Burns may be at the top of his game, but he's still considered a dinosaur for being over forty in the youthful, trendy business of advertising. In a moment of desperation, he hires young con-artist Dick Sweeney to be his stand-in at an ad agency while Tom does all of the hard work behind the scenes. The scheme works until Tom falls for Dick's co-worker Harriet Foster, forcing Tom and Dick to make a choice between love and getting a paycheck in this comedy about ageism in the work place.
Dove Review
This is a creative story that reveals some of the truths in today's world. Tom Burns is good at what he does and he's been in advertising for many years but when he loses his job, finding a new one is not so easy. Everyone wants younger, hipper and "cool' in this world of ads and his experience means nothing to a new generation of ad men.
Although this kind of situation is a very serious matter to those of us over 50, this comical story adds a few laughs to it. There are also some very interesting lessons taught in this movie, lessons like trusting in others, having faith in your children to make the right choices in their lives, and being truthful to those around you . In addition the point is made that if you really want something it is worth working for. This film is awarded the Dove "Family-Approved" Seal for all ages.