Mr Hockey: The Gordie Howe Story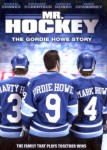 Synopsis
Hockey great Gordie Howe retired after 25 winning seasons with the Detroit Red Wings. But he realized that retirement just didn't work for him… When his son's were drafted to the Houston Aeros he came out of retirement to join the team! He was written off by many, who though he was too old to be playing competitively. Through hard work, perseverance, and the loving support of his wife and family, he and his sons managed to prove the critics wrong by winning several championships for the team!
Dove Review
Gordie Howe was a simple, quite man off the ice but on it, he is a force to be reckoned with. Nicknamed "elbows" due to his frequent use of them to other player's faces, he became "Mr. Hockey" by scoring 786 goals in his NHL career. After retiring from the Detroit Red Wings and taking a job in the head office, he decides to join the new World Hockey Association when a former teammate lands a job coaching the Houston Aeroes and drafts Gordie's 2 sons who are too young to play in the NHL.
This is a great story of his rise to the top of the new league and also shows how gentile, yet firm, he is raising his own family. Respect for others, dignity and perseverance are all positive themes shown throughout this film. If you love the game or know someone who plays Hockey on any level, you will appreciate this great story based upon the real life of "Mr. Hockey," Gordie Howe. We are pleased to award this moving film our Dove "Family-Approved" Seal for ages 12 and over.
Content Description
Sex:
Husband/wife kiss a few times; Boy/girl kiss a few times; Implied husband/wife engage in an afternoon romantic encounter - not shown.
Drugs:
A few bar scenes; smoking a few times; one character is named "Smokey" presumably because he always has a cigarette going; An assistant coach has an alcohol problem and is fired by the team. Man smokes a cigar; Drinks during meals; Hockey players and girls at a party with alcohol.
Info
Company:
ARC Entertainment