Genesis 7: Episode 11 – The Kuiper Belt
DVD Release:
June 11, 2013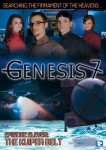 Synopsis
A sudden flash of light, an inexplicable power outage, and Donton's doubts about his faith confound the Genesis 7 crew in the eleventh episode in the children's space series. As Enoch, Donton, and Priscilla venture to the edge of the solar system, they cross the Kuiper Belt to the moon of the trans-Neptunian object Orcus, but while Donton collects samples that could determine whether its surface has ever been disturbed, Little G loses contact with the G7 craft.
Alone in the dark, Donton listens to a voice that speaks God's word and awaits his rescue, which gives him a chance to talk to Uncle Enoch to further confirm his salvation. As the crew continues toward the termination shock barrier to recover the ancient Voyager 2 spacecraft, a mole is caught trying to sabotage the mission back at Genesis Command and arrested for espionage.
An entertaining series that follows a trio of space explorers through a year-long journey to fuel their program's mission of bringing glory to God beyond the firmament of the heavens, Genesis 7 is produced by the Christian filmmakers at Iachod Visuals, the team behind the documentaries "The Heavens Declare," "The Heavens Declare 2: Beyond the Milky Way," and "The Young Sun. Bonus" educational materials include vocabulary and maps.
Dove Review
The "Genesis 7" series is an adventurous journey into the Heaven that God created. This series combines education and faith into a journey that everyone will enjoy. As two young cadets join their uncle on a space travel of the solar system, they relate a connection of their faith and God's word to each adventure they embark on.
The trio are reaching the outer limits of our solar system. On this episode Donton is questioning his faith. He talks to his sister about his feelings. But when he is in the little G7 alone to collect samples something happens that affects everyone on the mission. Back at Mission Control the mole is arrested. We award episode 11 of this series the Dove "Family- Approved" Seal for all ages.
Info
Company:
Bridgestone Multimedia Group