Online
DVD Release:
August 27, 2013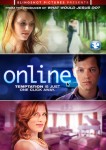 Synopsis
John Wilde is a happily married man who is about to face the biggest challenge of his life. Late one night, John logs into a social networking site and re-connects with his old high school flame, Adrianna. What begins as a harmless "Hello" rapidly escalates into a rekindling of their past romance. Torn between the life he once envisioned with Adrianna and the life he's now building with his wife, Mary, John soon discovers that there are serious consequences to the decisions he has made.  Now John must try to find his way back to God and get on a path to forgiveness from Mary, God and himself.
Dove Review
"Online" does a terrific job in portraying that we reap what we sow. It poignantly portrays the dangers in married men contacting former girlfriends via social networking. It's a drama that shows that stepping outside the guidelines can result in catastrophic results but it also nicely illustrates what the forgiveness of God can do.
John Wild has just received a promotion to a management position at the marketing/advertising firm he works for. One night at dinner with co-workers a man casually mentions contacting a former girlfriend via a social network online. John is newly and happily married but this comment stirs up thoughts about his former high school sweetheart, Adrianna, and before long John finds himself doing what he said he would never do, meeting Adrianna and having dinner with her and neglecting his wife Mary.
This film clearly shows that one wrong step can lead to another and soon one is descending down a path that can only bring pain and regret. It offers hope if one looks to God for His strength and support. This is a powerful movie and we recommend it and its message for ages twelve and above. Morgan Ayres is terrific as John as are Kelsey Sanders as Mary and Esseri Holmes as Adrianna. This movie will speak to many viewers as it deals with our current age, the age of technology and social networking.
Content Description
Sex:
A married woman gives a married man a quick kiss and in a passionate moment he returns the kiss but then stops; a married woman pursues a married man; a married man sees a married woman but repents and stops the relationship.
Info
Company:
RLJ Entertainment
Reviewer:
Edwin L. Carpenter