The Adoption Day Surprise: (Illustrated with Read-Along CD)
Theatrical Release:
May 1, 2012
Book Release:
May 1, 2012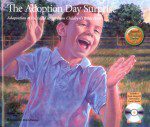 Synopsis
Siblings Jen and Greg Desperately want to be adopted by the Johnson's. When Greg faces a sad realization, he tries to run away. Mr. Johnson teaches Greg a valuable lesson about how he can be accepted into the Lord's family.
Dove Review
I remember the Children's Bible Hour from when I was a young child. Here is a lovely story adapted from the radio script. This story is about the adoption of two children into a lovely family but also into God's family. Jen and Greg have waited for four years to have a family again and now the time has come. But a bully name Jake puts doubts in Greg's head.
This story tells of the love the Johnson's have for both children and how they help them through this new transition into the family. They also introduce the kids to the love that God has for them. It makes a comparison of being adopted by an earthly family to becoming a member of God's family, making this a wonderful faith-based story for the entire family. This storybook also has a CD that is narrated by Uncle Charlie that makes it easy for young readers to follow along. We are proud to award this book with the Dove "Family-Approved" Seal for all ages.