Monkey Business (Illustrated with Read-Along CD)
Theatrical Release:
May 1, 2012
Book Release:
May 1, 2012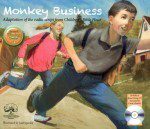 Synopsis
Did people evolve from monkeys? Gramps shares the importance of learning theories required at school, but to remember what his grandchildren Brooke and Austin really believe about how the world and people were created. Will they be able to share their testimonies with others?
Dove Review
"Monkey Business (Illustrated with Read-Along CD)" is a wonderful illustrated story adapted from the Children's Bible Hour. I remember these stories that I heard as a child. Your entire family will enjoy this charming story about Brooke and Austin as they tell their grandfather what they were taught in science class at school. Grandfather helps them understand the importance of being respectful to their teacher but also the importance of their belief of the Bible and creation.
This lovely illustrated book can be read out loud or easily followed along with the read-along CD narrated by Uncle Charlie. Each book from this series ends with the question "Have you asked Jesus to be your Savior?" This is in addition to the explanation of three important words: Admit, Believe and Choose. We are proud to award this book the Dove "Family-Approved" Seal for all ages.