Christians Carol
Theatrical Release:
October 21, 2013
DVD Release:
April 1, 2014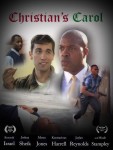 Synopsis
Christian believes that at death his deeds will outweigh his bad. However, a few scenes later, he is shot. While on the operating table, his subconscious takes him on a journey through his past to see all the things he has done in his life, what impact he's had on the world, and ultimately, how much he needs Jesus in his life.
Dove Review
This is a story that asks the question: are you really ready for death and will you make the cut? Christian thinks he will because he hasn't done anything wrong or has he? As he is taken through his life by his friend Jack (who is the combination ghost of past, present and future), Christian is asked time and time again if there is something he could have done to change the outcome of things. He also may find some things he did not even know happened because of him. But in the end is it to late to ask for forgiveness from the One who really matters?
"Christian's Carol" is an enlightening tale that will make everyone think about how they live their life and if they are ready for the end. Sometimes even as Christians, we do not take the time for those around us.
Info
Industry Rating:
Not Rated