Peeples
Theatrical Release:
May 10, 2013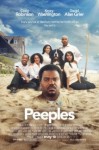 Synopsis
Sparks fly when Wade Walker (Craig Robinson) crashes the preppy Peeples annual reunion in the Hamptons to ask for their precious daughter Grace's (Kerry Washington) hand in marriage. Wade might be a fish-out-of-water among this seemingly perfect East Coast clan, but he's not about to let himself flounder. Instead, in a wild weekend of fun, dysfunction and hilarious surprises, Wade is about to discover there's room for all kinds of Peeples in this family, no matter their differences. Writer and first-time director Tina Gordon Chism joins forces with Tyler Perry to present a laugh-out-loud look at the family ties that freak us out . . . but bind us together with love.
Dove Review
When a man surprises his girlfriend who has left for a family gathering, they all get more than he had bargained for. Disfunctionality is the essence of this modern family. The son steals continually, the sister is a lesbian and the mother drinks a solution mixed with "magic mushrooms". Not the kind of family most people want to be associated with. While the film is funny at times unfortunately many of the issues go unaddressed.
Yes, no family is perfect. Yes, most families have secrets and yes, we all should judge others less. However, this doesn't make a film with few positive elements worth viewing. "Peeples" is not a film for a Dove Approved family.