Shadow on the Mesa
DVD Release:
October 1, 2013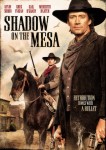 Synopsis
Wes Rawlins is considered one of the best bounty hunters in the West. His life changes when he finds out that his mother is dead and the man responsible is still at large. Wes believes that his long lost father Ray Eastman is responsible and sets out to find him seeking revenge. Instead, he discovers that his father is involved in a territorial battle with a greedy landowner. As Wes draws close to the family he has never known, he stays to help them defend their homestead. Starring Kevin Sorbo, Greg Evigan, Gail O'Grady and Meredith Baxter.
Dove Review
This is a terrific western with an interesting story. Wes Rawlins (Wes Brown) learns his mother was killed, in fact murdered, and he goes in search of his father, the father he has never met, to see if he was behind it. Wes soon finds his father Ray Eastman (Kevin Sorbo) and learns he has a brother and sister too. A villain named Pete Dowdy (Greg Evigan) wants his father's inheritance, and is willing to kill him for it.
The action is lively and the themes of family loyalty and fighting for one's possessions are nicely handled. We are pleased to award this movie our Dove "Family-Approved" Seal for ages twelve plus, due to the violence level hitting a rating of two in our content listing. This is a western with heart!
Info
Director:
David S. Cass, Sr.
Industry Rating:
Not Rated
Starring:
Kevin Sorbo
, Ronnie Gene Blevins. Gail O'Grady
Reviewer:
Edwin L. Carpenter