Snowflake: The White Gorilla
DVD Release:
September 3, 2013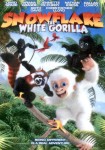 Synopsis
Based on the incredible true story. Snowflake knows what it's like to be different. Her snow-white fur has set her apart from other gorillas since the day she was born. Now, far away from home, she lives at the Barcelona zoo, where she's the most popular attraction; with everyone except the other gorillas. In order to fit in with the other gorillas, Snowflake comes up with a courageous plan to change the color of her fur from white to black. When she learns the traveling circus is in town with a powerful witch she escapes the safety of the zoo's walls with the help of her friends. Traveling across town to the circus Snowflake and her friends soon discover what danger really awaits them.
Dove Review
Snowflake is different from the other Gorillas, captured at a very young age due to the rarity of her coloring. She is raised by a human family that has a young daughter. The two grow up together and are very good friends. But when it comes time for Snowflake to go to the zoo, she finds that she misses her friend and also she needs to change because the oldest male gorilla at the zoo does not want her there because she is different.
In this film Snowflake is computer generated along with the other animals and all the animals talk. The voice track is dubbed so the movement of lips does not always match. But the movie is cute and teaches many lessons about not trying to change, to be true to yourself and that you should not judge others just because they are different or look different. The Dove "Family-Approved" Seal for all ages is awarded to the movie, "Snowflake."
Info
Director:
Andres G. Schaer; English adaptation director - Melanie Simka