Lifes a Pain (Book)
Theatrical Release:
December 12, 2012
Book Release:
December 12, 2012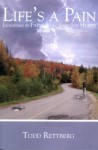 Synopsis
As a pastor who suffers from chronic pain himself, Todd Rettberg knows what it can do to people and families. With straight talk, humor and compassion, he shows Christians how to find God in the middle of suffering.
Dove Review
Pastor Todd Rettberg understands pain. For over 20 years he has suffered severe migraine headaches that have made it a challenge to even get out of bed some days. His wife describes the pain as the "third person" in their marriage. He's been to every headache specialist and tried every type of treatment to no avail. The pain repeatedly steals from his life—destroying plans with his family and crippling his life. Yet through it all, Rettberg has discovered that God is his "oasis" from the pain and that He is present in our suffering, whether we realize it or not.
In this short, easy-to-read book Rettberg identifies with those who suffer chronic pain and acts as a guide for those who don't. Rettberg reminds us, through his story and the stories of others, that pain and suffering is universal, is actually promised by God, and unites us as humans. He urges us that there are no cookie-cutter answers for those in pain, and reminds us that the journey is often long and dark. He instructs us that showing up and listening is often the best comfort we can give. He asks that we learn to "stop and listen, without immediately jumping to propose a cure," when offering comfort to those in pain.
For those who are in the midst of a storm of pain, he concludes that while we often "spend our time and energy trying to get out of the storm, God seems to work best in the midst of the storm, when we have lost all control and there is nothing left to hold onto but Him." He makes the case that God uses pain for His glory, as a way to train us, and to make us more like Christ. He states that after years of praying for healing, he reached a point where he believed God would do something worthwhile through his pain. His prayers changed from asking for healing to asking God to do what He wanted with him in and through the pain.
While the author does a good job discussing pain and urging those who don't understand chronic pain to respond in more helpful ways, the book just scratches the surface of the author's personal experiences and what the Bible says about pain. While there are some practical suggestions, many of them are generalized and may often leave readers wondering, "yes, but how?"
This book is a quick read and serves as a starting point for talking about pain and learning more about what God says on the subject.
Info
Company:
Sierra Vista Community Church
Industry Rating:
Not Rated