Boys Passage Mans Journey (DVD Set/Study Guide/Book)
DVD Release:
March 5, 2013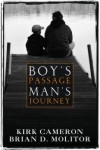 Synopsis
Few things in life work out the way we want without planning. In its most basic form, a plan is straightforward: Set a goal, then determine what steps are needed to achieve that goal. Why, then, do so many families neglect to plan when it comes to raising their children?
In five engaging video conversations with father and actor, Kirk Cameron, Brian Molitor teaches how to create and implement a family plan, and more importantly, how to consistently live it and maintain it.
Embracing the concepts learned in this set is vital to advancing the maturation and masculinity of the next generation of men. Manhood is not simply achieved by reaching a certain age; it is planned, earned, and—above all—affirmed by the older males in every boy's life. Becoming a man does not just happen; it is a process—a boy's passage to a man's journey.Primarily designed for fathers and sons, Boy's Passage—Man's Journey is an eye-opening message of how to deliberately and strategically transform young boys into productive and godly men. In addition to the five DVD conversations with Kirk and Brian, the box set includes a 64-page study guide and a 240-page book.
Dove Review
Kirk Cameron hits it out of the park with this solid and practical teaching series on fathers helping their sons make the transition from boy to young man. This five DVD-set focuses on important topics in the lives of young men. The series begins with having a plan and Kirk outlines the need to have a target or otherwise to risk having nothing to shoot for. It should be noted that Kirk himself is a father with six children and he speaks with the voice of experience in addition to relying on God's word. He mentions the diversity of his kids as one is artistic, one is nurturing with children, one loves music, some are shy, some love literature and poetry, etc. He joins with author Brian D. Molitor in this documentary.
The second DVD speaks of lifelong mentoring. The DVD focuses on the fact that Dads should be involved because if a child has a mentor that is NOT Dad, the mentor is less qualified. Kirk Cameron states young men need to be affirmed and be blessed by their fathers. Some kids are very independent so as Kirk points out, dads better have a plan. Dads can mentor their sons in such things as changing tires, hygiene, how to treat a girl and important life lessons. Dads are encouraged to admit their mistakes and not to compare their sons to other kids, not to use harsh words and to remember to let them be kids sometimes and just have fun. Dads should be transparent in front of their kids.
Disc three focuses on "Intentional Blessings" and gives an example that if a son brings home all "A's" on a report card and one "B", do dads look at all the A's or the one B? The tongue can create or destroy and words like "idiot", "moron", and comments about the young man "getting a clue" should never be made. Dads need to instill confidence in sons so that they overcome their fears.
Disc four and conversation four is about "Rites of Passage." It speaks of having a ceremony to mark the rite of passage of a son becoming a man. Different men believe a boy becomes a man at different ages but they all agree that marking it is an encouraging thing for a son. Various cultures are included in the idea of a rite of passage and we learn in one culture a boy has to be circumsised and if he doesn't react to the pain for about twenty seconds he is considered a man! The author, Brian D. Molitor, mentions giving gifts at a ceremony that are significant to the idea of a boy becoming a man, such as a tool, etc. The need for identity is examined as well.
Disc five concludes the series with the topic, "Brand New Man" and overcoming problems with the help of other men and mentors, is discussed. A Father needs to be careful what he says to his son and this is mentioned with the quote, "Often fathers cannot remember what sons cannot forget." The study guide written by Cameron and Molitor deal with the same issues the DVDs do but feature discussion questions too, such as this one: "Were you raised more by design or default? How did that approach impact your life?" The book, "Boy's Passage, Man's Journey" by Brian D. Molitor is included in this DVD set along with the study guide. The book is 237 pages long and goes into more depth but focuses on the themes of the DVD set.
We are very pleased to award this terrific DVD and book set five Doves, our highest rating. Due to some of the subject matter, that men can struggle with pornography for example, we are recommending it for ages twelve plus but fathers should consult our content listing. Some fathers will be okay with their older sons, around age ten, watching the series or reading the material. It is not intended for young children. This potentially life-changing series is filled with wisdom and practical advice. Every father everywhere should check out this DVD series!
Content Description
Sex:
A father states he talked to his teen son about sex; it's mentioned that some men struggle with pornography.
Drugs:
A few comments like some people believe a boy becomes a man when he can drink; in one culture it's mentioned a mother makes honey beer as part of a ceremony.
Info
Company:
Liberty Alliance, LLC
Reviewer:
Edwin L. Carpenter