Welcome to Inspiration
DVD Release:
January 20, 2015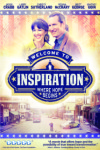 Synopsis
Set in the small fictional American southern town of Mountain Brook, INSPIRATION POP 2929 follows a diverse cast of characters as they struggle in their lives. A young musician wishes to share his gift with a larger audience; a widow copes with the death of her soldier daughter; a small business owner sacrifices her freedom for the safety of a young runaway; a mechanic finds a family by finding his faith; and a man and woman strengthen their marriage by seeking the Lord's wisdom. The main theme in this film is that you too can live a life of irrefutable success if you learn and act upon the things that God has revealed to you! We have to ask ourselves daily; Am I truly listening?
Dove Review
What a terrific movie! This film features themes of forgiveness and moving forward despite hardship and loss. It includes the story of a couple struggling in their marriage, a woman who has lost her daughter/soldier to death, a young girl who has run away from a foster home, and a young man that wants his father to accept his determination to make a living by playing music. Through it all an elderly man encourages various characters to seek God.
This is a wonderful movie and due to the marital tensions we are recommending it for ages twelve plus but recommend it we do! The movie's title is appropriate, this film has the power to inspire the viewer.
Info
Company:
For Our Father Films
Reviewer:
Edwin L. Carpenter