The Little Book of Bedtime Blessings (Devotional)
Theatrical Release:
April 9, 2013
Book Release:
April 9, 2013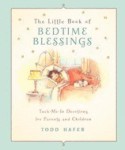 Synopsis
Those precious times before young children drop off to sleep are golden opportunities for parents to wrap them in warm assurances of God's love–and theirs. More than a storybook, Bedtime Blessings is filled with "story" devotions and Bible-based blessings to share with their children. After hearing a faith-building entry from the book and an affirming blessing from Mom or Dad, children will sleep sweetly and soundly.
Dove Review
Young children and their parents will love these 60 short, uplifting devotional thoughts that point to different aspects of God: His glory, creation, love, etc. Author Todd Hafer has a unique ability to make biblical ideals tangible to children of all ages. Each devotional is coupled with a Bible verse as well as a short prayer, and gentle illustrations abound.
Written with humor and humility, this God-honoring "Little Book" is a fantastic tool for families to use to connect with each other over the beauty of God's love.
Info
Company:
Worthy Publishing
Industry Rating:
Juvenile
Reviewer:
Susie Finkbeiner