Gordon Family Tree
DVD Release:
March 25, 2014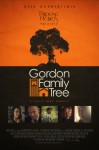 Synopsis
Freemont Gordon finds himself working in a Successful Architecture Film in Los Angeles, a job he does not enjoy. Freemont lives in the shadow of his famous family and finds the pressure of that expectation makes it hard for him to do what he really loves — wood work with his hands. He anonymously builds a tree-house for his boss' kids while they are on vacation and discovers that he loves working with his hands too much to go back to a job he doesn't love. Freemont, quits his job, leaves town, and discovers the kindness and extraordinary Community of other parts of the country. Freemont meets a home builder in Arkansas that truly changes his mind about what's important in life. He eventually goes home after building tree-houses anonymously for loving families along the way. Armed with a new idea for his life — he begins to change his future.
Dove Review
This movie makes the point that it is important to do what one loves in life. Freemont comes from a prominent family but he isn't happy with his life. He works at a big firm as an architect but he is floundering. He quits his job and takes a journey to find out who he really is. In one scene he comes across some kids that need a tree house built and he builds one for them. He goes on to build tree houses for other families.
Soon he is building tree houses for underprivileged children and gets married. This movie is a shining example of the possibility of change. The acting is terrific including Corbin Bernsen, Richard Karn, and Ryan Schwartzman. We are very happy to award this movie our Dove "Family-Approved" Seal for all ages. You will love this movie about loving what you do!
Info
Company:
Purpose Pictures
Writer:
Ryan and Jennica Schwartzman
Reviewer:
Edwin L. Carpenter