Fenced Off
DVD Release:
January 6, 2014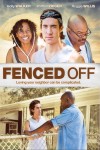 Synopsis
Josh and Anne just moved into their first house. George and Tia live next door. George is retired and ready for life to slow down a little. Josh is a young idealistic social worker ready to be welcomed to the neighborhood. Much to Tia's chagrin, George has little interest in giving Josh a warm welcome. What starts off as a day of yard work and random to-dos for the new neighbors turns into a series of misunderstandings and confrontation. Inspired by actual events, Fenced Off explores the reality that loving your neighbor can be complicated.
Dove Review
This movie makes the point that judging others without having full knowledge can be dangerous as well as wrong. Josh moves into a new neighborhood and several African Americans live in the area. Some of his friends tease him about moving into the "hood". Josh and his brother make fun of others by how they dress and act. This leads to a confrontation. An African American named George comes to their aid.
In the end there is reconciliation and Josh learns a few life lessons. We are pleased to award this film our Dove "Family-Approved" Seal for ages twelve plus, due to some tension between races and sophisticated themes. This one offers hope by the movie's end and makes the point that sometimes help can come from a source that you would not expect.
Info
Company:
Bridgestone Multimedia Group
Reviewer:
Edwin L. Carpenter