Road to Emmaus, PA
DVD Release:
December 17, 2013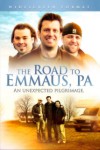 Synopsis
Three somewhat skeptical friends take a road trip in a haggard RV reenacting an ancient Biblical pilgrimage. In the gospel of Luke, the resurrected Jesus is said to appear to two travelers walking from Jerusalem to Emmaus in ancient Israel. This is the modern story of three travelers looking for Jesus between Jerusalem, Ohio and Emmaus, PA. What starts as an investigative experiment ends as a poignant story of post-modern pilgrimage and communal awakening.
Dove Review
This film is inspiring and impressive. It features three young men–Brad, Mat, and Joe, and their trip by RV from Jerusalem, Ohio to Emmaus, Pa. They want to experience God through people's lives along the way, just as the two followers of Christ experienced an unforgettable time with Christ following his resurrection as they walked on the road to Emmaus in Israel some two thousand years ago.
And they do indeed find some interesting experiences during their journey. A Christian woman who had prayed for them told them when they arrived at their destination they would see a large white house with a very tall tree next to it and a woman inside the house would enlighten them. We won't spoil it for you but what happens at the climax of this story is pretty amazing.
The trio finds that not only do they encourage several people during their journey from Jerusalem to Emmaus, but they themselves find encouragement. They find a man that could retire but works to help support his pastor son's church in Germany and two lady volunteers who serve the community as well as others who are making a difference in people's lives. They also meet with a pastor who shares some insight with them. Ultimately they feel blessed because the idea is illustrated over and over to love God horizontally by loving people in order to love Him vertically.
This is an awesome documentary dealing with ordinary people who see the hand of an extraordinary God move. This one has earned five Doves from us. We are recommending it for ages twelve plus mainly due to an utterance of language but parents may be fine with their children under twelve viewing it. Check out our content listing to make an informed decision.
Content Description
Language:
P-1; One man uses the term "Buck off"; Shut up-1; A man calls a man a jerk as a joke; Holy Cow-1
Drugs:
Beer is seen in bar and a few people drink while the three men visit with the local people; a few jokes told about a bar including a deer walking into a bar.
Info
Company:
Bridgestone Multimedia Group
Reviewer:
Edwin L. Carpenter