The Book of God (Graphic Novel)
Theatrical Release:
September 6, 2013
Book Release:
September 6, 2013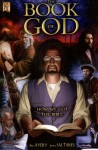 Synopsis
This is the story of a book. A book that everyone knows of, but not everyone knows about. This is the story of how the Bible came to be: who wrote it, when and why. How it was collected and translated. This is the story of how the Bible was written centuries ago and passed on through the generations to this very day. The story of…The Book of God.
Dove Review
This graphic novel is nothing short of amazing! It features a terrific history of the Bible, awesome art work, thrilling examples of stories from God's word, and plainly shows how powerful this book (The Bible) really is. It mentions that approximately six billion copies have been sold in the last two hundred years and that no other book has even hit one billion copies in sales. The Bible is by far the all-time best seller. Ben Avery and Javier Saltares, the writer and artist, hit a homerun with this graphic novel. It is an awesome tool to be used in churches and to teach children and young adults the word of God. Those who are older should enjoy it and be entertained too.
The authors of various books of the Bible are mentioned, such as Moses and Joshua, and terms such as the "Pentateuch" are explained. Beautiful artistry includes paintings of Samson pushing down the large pillars of the temple and David playing his harp. The authors, in addition, do a terrific job in showing how the Old and New Testaments complement one another. They explain too why some books were not included in the canon of scripture, books that were not considered "inspired" as those that were included. The various translations are mentioned too. This graphic novel covers it all. It is interesting, features great artwork, history presented in an interesting way, and yet is wholesome. We are very pleased to present this graphic novel our Dove "Family-Approved" Seal for all ages.
Info
Company:
Kingstone Comics
Industry Rating:
YoungAdult
Reviewer:
Edwin L. Carpenter