Season of a Lifetime
DVD Release:
August 27, 2013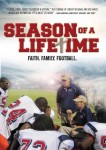 Synopsis
The inspiring story of head football coach, Jeremy Williams, who, terminally ill with the ALS (also known as Lou Gehrig's disease) refuses to retire, deciding instead to coach for one last season. Rick Cohen's cameras follow him as his resilient Greenville Patriots high school team battles a tough Region 4 schedule in their quest for the Georgia state championship. A father figure to his underprivileged players, Coach Williams is also a loving husband to his high-school sweetheart, and a loving father to two kids, one who is also stricken with a debilitating disease. Family and faith are the driving inspirations that enable Coach Williams to strive toward the impossible, making it truly a 'Season of a Lifetime.'
Dove Review
This DVD will inspire viewers everywhere! It is the story of Jeremy Williams, a man who coaches the Greenville Patriots high school football team, even after learning he has Amyotrophic Lateral Sclerosis, ALS, also known as Lou Gehrig's disease. Coach Jeremy is loved by his players as he instills a determination in them to never give up while facing life's adversities. He is a father figure to the team as well and various players share their respect for him. We also see his personal family life and meet his wife Jennifer and children Josie and Jacob. Jacob suffers from Spina Bifida but father and son both admirably deal with their setbacks.
Coach Williams decides to coach one more season, despite his physical limitations, and his courage and his team's season are showcased in this fascinating DVD. One scene shows five hundred runners have raised $12,000 for ALS research. This man of God, Jeremy Williams, makes a convincing statement that God is with us always and can help us through any adversity. "He's still God", he says, even after learning of his disease. This DVD earns five Doves from us and is recommended for all ages. Watching this one will encourage determination in the viewer to face life with courage.
Info
Industry Rating:
Not Rated
Reviewer:
Edwin L. Carpenter