The Nativity
DVD Release:
October 1, 2013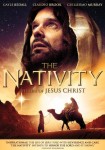 Synopsis
An inspirational adaptation of the greatest story ever told, follows the life of Jesus from his birth through childhood and in to manhood where his special message of love and forgiveness changes the world. But not all become followers and his life on Earth ends brutally – however, this ultimate sacrifice, followed by his resurrection and ascension revealed him to the world as the one true Son of God.
Dove Review
This is a nice dramatization of the life of Jesus, featuring his birth, ministry, miracles, crucifixion and resurrection. It is told with reverence and care. Featured are Mary and Joseph and his disciples as well as King Herod and Pilate. The movie opens with the creation from the book of Genesis and concludes with the Lord's Prayer following Jesus' resurrection. Between this we see His raising of Lazarus, the cleansing of the leper and the healing of the blind man as well as His cleansing of the temple with a whip and overturning the moneychangers' tables. We also hear His teachings including the Sermon on the Mount.
The music is appropriate too. We are pleased to award this movie our Dove "Faith Friendly" Seal for all ages. "The Nativity" intends to honor the Lord and it shows.
Info
Company:
Bridgestone Multimedia Group
Industry Rating:
Not Rated
Reviewer:
Edwin L. Carpenter