Be My Valentine
DVD Release:
January 14, 2014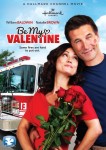 Synopsis
Firefighter lieutenant Dan Farrell (William Baldwin) is a widower and single dad who isn't looking for love. But a few weeks before Valentine's Day, his team responds to a fire at a local florist and he can't help but notice the pretty owner, Kate (Natalie Brown). When he struggles to buy flower arrangements for the stations annual Valentine's Day Firefighter's Ball, Dan enlists Kate's expertise and soon the two are spending lots of time getting to know each other. Inspired by his son Tyler's (Christian Martyn) budding romance with another firefighter's daughter, Dan starts to open up his own heart and even asks Kate to be his date to the ball. Just when he couldn't be happier, Dan is faced with an expected emergency call: Kate's ex, Gavin (James Thomas), has returned to win her back with a marriage proposal. Will Dan suit up to fight for love, or let the flame with Kate burn out?
Dove Review
You can always enjoy a Hallmark movie no matter what holiday or genre it may be. Here is a romantic comedy about a father and son both on the path of dating, one just starting and the other just getting back in to the dating scene. As Dan helps his young son, Tyler, understand how to ask out the girl he is attracted to on a first date, Dan finds himself thinking about dating which is something he has not done in 20 years. The two find it is not always easy in the dating world and sometimes there are unforeseen things that happen but they can work themselves out if there is communication.
This is a funny and cute story of young love and new love and is a great movie for Valentine's Day, date night or just a fun movie night that everyone can enjoy. We are proud to award this movie the Dove "Family-Approved" Seal for all ages.
Info
Industry Rating:
Not Rated