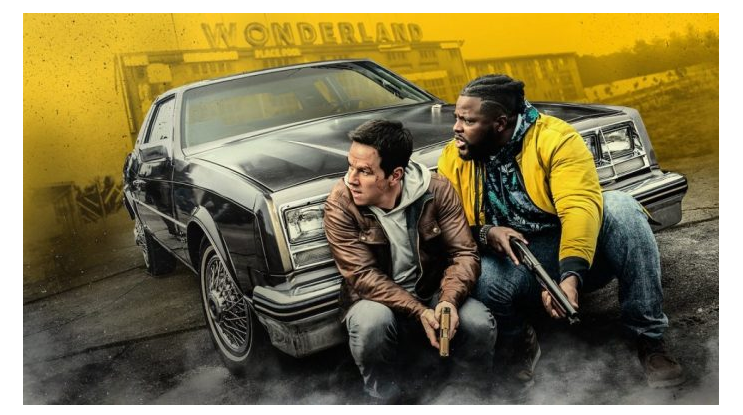 By Jacob Sahms
In 1973, Robert B. Parker wrote a reasonably short story called The Godwulf Manuscript, the first of forty-one novels about the detective-for-hire Spenser based in Boston, MA. After his death, the series was continued by his agent Helen Brann who finished the forty-first story and later by Ace Atkins, who wrote five more novels. While a three-year run for the series Spenser for Hire with Robert Urich aired on ABC, and his other Jesse Stones stories were adapted by CBS for TV films, Parker's material remained largely untouched by cinematic creators. Until now.
Pairing frequent collaborators, director Peter Berg and Mark Wahlberg (Lone Survivor, Deepwater Horizon, Patriots Day, Mile 22), Netflix unveiled Spenser Confidential on March 6, 2020. The film was released straight directly on the streaming service and has been met with significantly positive reviews. Mixing in the trademark smart aleck repartee between Spenser (Wahlberg) and his wingman Hawk (Winston Duke, Black Panther) and the detective work required to solve a crime, the film moves quickly in two hours to highlight the city of Boston and the staying power of Parker's P.I.
The film has taken some liberties with the character. Replacing the counselor Susan with a dog-walking Cissy Davis (Iliza Shlesinger) and modifying the friendship of Spenser, Hawk, and their boxing mentor Henry (Alan Arkin), Berg's version builds on what the previous stories, including Atkins' Wonderland, while also modernizing the story in a way that suits Wahlberg and audiences unfamiliar with the material. Some of the changes are for the purpose of the storyline (including Wahlberg's version of the PI serving time for meting out violent justice and meeting Post Malone's inmate), and none of them really distract from what fans of the series should like. Fair warning, it's still somewhat violent and certainly profane.
Spenser has serious control issues at times but one of the things he can't control works in his favor: he can't see someone in need, someone struggling with the wrong end of injustice, and not do something. Asked at one point why he would sacrifice his well-being and possible future for someone he didn't even know, he simply responds, "Because it's the right thing to do." Like an Old Testament enforcer, Spenser goes full throttle at a story of incredible corruption and apathy to right several wrongs, and indirectly, clears his own name. He's a throwback to the days of Philip Marlowe with new school techniques, even if he requires the assistance of Hawk to navigate the internet or understand Facetime, but his dogged persistence is one of his more enduring traits.
Speaking of Hawk, the show allows the audience to see this big black Bostonian as more than a sidekick. He brings his own perspective, spirit, and character to Spenser Confidential in a way that clearly adds to it. It visually speaks to the way that Spenser works and thinks, that anyone can offer their gifts and that everyone is a person of value, in a way that shows how before his time Parker was. Through Hawk and Spenser, we see a little family come together, a little community grow. But it's all driven by Spenser's relentless, his understanding that if one of us is suffering injustice, that we all suffer.
And the truth shall set you free.