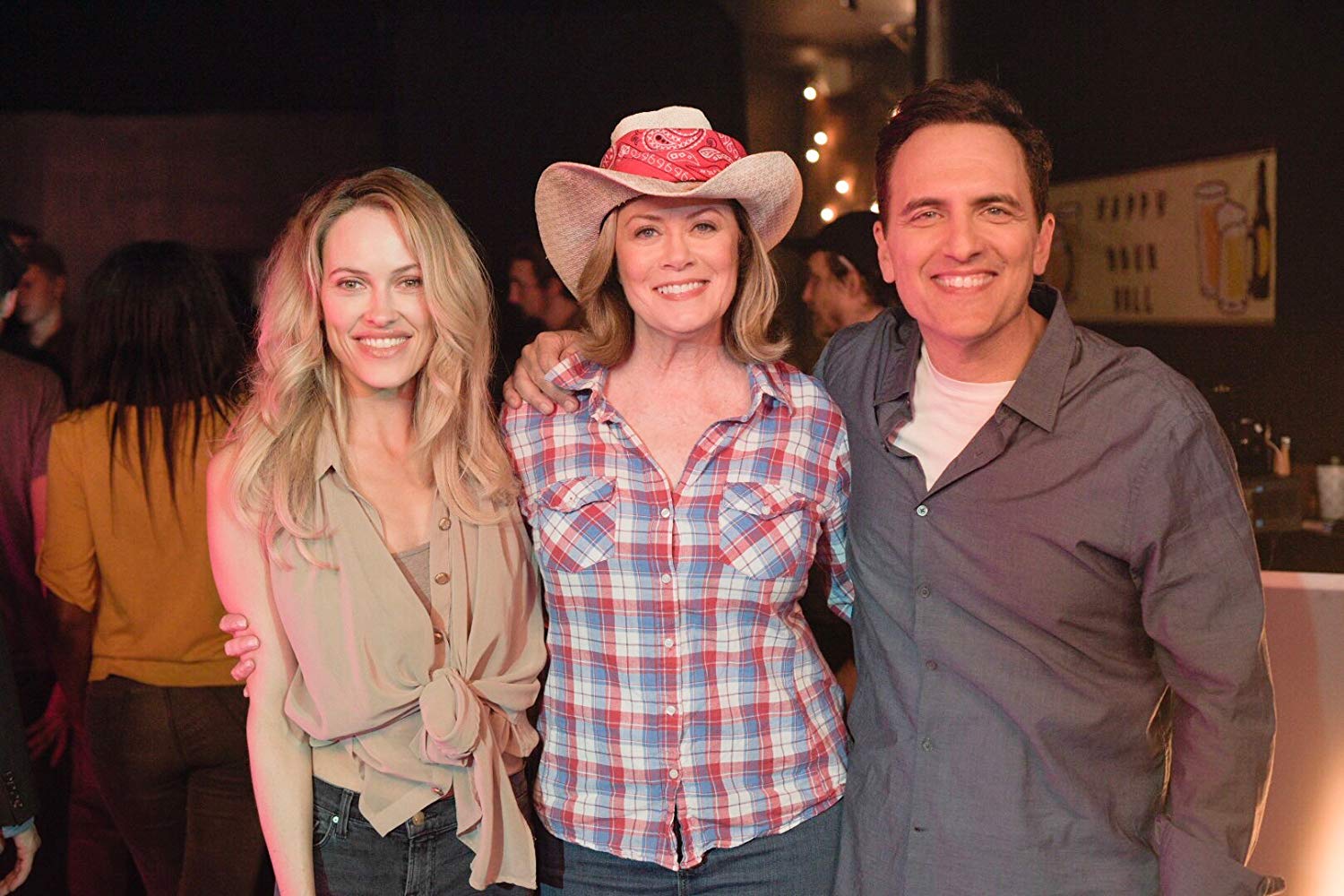 By Jacob Sahms
"Why don't we have a romantic comedy/dance film for the faith-based market?"
That's the question that the writer, director, and actor Robert Krantz asked two years ago when he set out to share his passion for faith, comedy, and dance. With the arrival of Faith, Hope, & Love on March 15, the fifty-eight-year-old Wisconsin native delivers the answer.
Robert Krantz can't help but see the ways that God has shown up in his life for fifty-eight years. While others had questions about who God was and what God was up to, he's always felt a closeness to the Creator of the universe as he knew Him through the Greek Orthodox Church. His parents raised him in the church and even gave him a Greek name: Haralambos Karountzos. Krantz's first name means "joyful light," and his appreciation for comedy (and bringing joy) show up through his storytelling and the memories he shares.
In Faith, Hope & Love, a little girl wants God to intervene in her father's life. Jimmy Hope has lost his wife – and his hope. So, the little girl asks the local priest (M. Emmet Walsh) to ask for God's help; the priest says that he'll share her request with God and that they'll leave it up to God to answer. This is one of the lessons Krantz intentionally weaved into the story from his own experience, as he's happy to share in a story about fatherhood, dance competitions, and, well, getting your groove back when God shows up.
"I've found that God knows us better than we know ourselves," he explained. "I've seen that in my own life, so many times where I wanted X and God gave me Y."
Years ago, Krantz was completely focused on getting a job on Steven Bochco's Hill Street Blues' spinoff, Bay City Blues. He knew that actors on Bochco's shows were stars, and getting paid accordingly, so he preferred the new show to a film opportunity, New Kid in Town, a low-budget, independent movie he was also auditioning for. As he prepared for his one on one audition with Bochco, who was flying in to oversee the final casting, he prayed, "God, I don't know if you know who Steve Bochco is, but please let me get his show and not the low-budget independent film."
After reading for Bochco, Krantz was told by his agent that Bochco had flown in to flex his producer muscles, and that Krantz was the casualty and didn't get the job. Arriving at home despondent, he was sent by the producers of New Kid in Town to meet another potential castmate at a hotdog stand; it was very low budget! Over hotdogs, he met Gary Hershberger. They ended up making New Kid in Town together and subsequently became best friends for the last forty years- and are fellow castmates in Faith, Hope & Love. On the other hand, Bay City Blues was cancelled after six episodes…
That's the kind of kismet Krantz sees in his career, and in his life, even when it meant putting his acting career on hold thanks to the story of his three sons.
"My wife is little and we were expecting triplets," Krantz remembered. "The doctor told us that she was an excellent candidate for reduction. Well, at that point, I wasn't an excellent candidate for anything, so I thought we somehow had gotten lucky. Then we went home and read the pamphlet he'd provided."
The doctor was afraid that the triplets would be born prematurely and become invalid, and wanted Krantz and his wife to reduce from three babies to one, leading to the most difficult moment of the Krantzes' life. "There was nothing I could do. In business or life, you can call someone or work harder, but all we could do was trust in God. With no bravado, we said, we're not going to reduce."
At week twelve, Tricia Krantz went into labor. The doctor was able to stop it, and put Tricia on complete bed rest. Every week, Tricia's warning monitor would go off and the doctor, a large man, told the couple that if their monitor went off again before Labor Day, they would need to reduce. On Labor Day, the monitor went off again. When Krantz wheeled his wheelchair-bound wife into the room, the doctor walked up to discuss the process and Tricia cut him off. "I don't care what you say, I'm not reducing, so if that's what you have to say, the answer is no,'" Krantz shared, laughing at her fierceness. "She's a champion, and by Week thirty, the doctor said, 'I've been wrong the whole time, so why don't you tell me when you're going to have the babies and I'll just show up.'" Tricia gave birth to their three healthy boys at thirty-five weeks. The boys have gone on to play high school and college football.
However, once they were born, Krantz, who was just releasing the film Do You Wanna Dance?, put his career on hold. "I knew God had given me these three gifts and I wanted to be the best dad I could be. I was as close as arm's reach without holding on. I watched over them until they told me to get out of here." He briefly worked on his film Christmas with the Karountzoses in 2015 when the boys were in high school, but on the last day of filming, he came home to find a note from one son that read, 'Are you done yet?' He decided to set filmmaking aside until they left for college.
In one scene in Christmas with the Karountzoses, Krantz's character talks to his Dad and shares that all he ever wanted to be was a great father. After being the best child of God he can be, that is Krantz's greatest aspiration: to be a great husband and father. So, setting aside his personal goals, his own career, was really not a question. Raising his kids and growing in relationship with his wife of twenty-five years was more important.
So, while Krantz has been offscreen for sixteen years, he's back now, and ready to put on his dancing shoes. But first he needed the right partner to help tell his story about finding love after great loss, on the dance floor. The team offered the role to nearly a dozen actresses who turned it down, and then settled on a dancer with no acting experience. When she failed repeatedly to show up for rehearsals, Krantz cut ties with her and prayed, "God, I know casting director isn't one of your titles in the Bible but I need your help."
That's when Peta Murgatroyd arrived, having just been eliminated from Dancing with the Stars that week. Having spent all night caring for her newborn son, the dancer, who had no experience acting, almost cancelled her audition from sheer emotional exhaustion. Showing up, she then she nailed her audition and against all of the advice Krantz received from other directors and producers who worked on dance movies, he offered her the part of Faith, the dance instructor who would teach Jimmy to dance and love again.
"We started rehearsing just thirty-nine days before filming began," recalled Krantz. "I knew by the second or third day that she was going to be great. Then during the first week of rehearsal, Peta turned to me and said, 'For the last year, I've been praying for this. I pray for my husband and my child and pray to God to please give me something in the film business.' I remember that as God telling me, 'I brought her to you.'"
Again, Krantz thought he needed X and God knew he needed Y. Audiences will be better for the answer to those prayers prayed over his own career, his family, and the film. Because while the film doesn't have millions of dollars behind it, Krantz is aware that what he does faithfully can be used miraculously by God. All of those thoughts at the gym on the treadmill writing scenes in his head, all of the books he's written, all of the experiences he's had traveling and meeting people – all of this he now lays humbly before God, having given his best. Krantz knows it, and he now waits with eager anticipation to see what God will do it next.
"I tried to keep the story as real as possible. And I tried as much as I could to hear the people around me and listen to their stories and their struggles, and then finish with hope. There has to be hope at the end."
That's Robert Krantz, the bearer of joyful light, with laughs and wisdom to share.