We were happy to see a strong turnout for the new Tim Tebow production of Run The Race. It's always easy to talk about faith-oriented movies from an outsider's point of view. Critics have not been kind. But as often happens, the audience for this movie is loving it. 
UPDATE! Because of it's success last weekend, the film expands to over 250 additional theaters tonight so more of your friends can go check it out! (Tell everyone!)
We caught up with the film's director Chris Dowling to get his reaction to the reviews and opening weekend.
DOVE: How was opening weekend compared to your expectations?
CD: Honestly, you just never know walking into the opening weekend. It's always scary and exciting and everything in between. But I knew we had a good movie and we had the Tebow brand that people trust. So I was expecting audiences to want to see it because of Tim, and loving it because it works as a solid film. I'm proud of our opening weekend numbers; top 10 total box office with only 854 screens? Rock N Roll!
DOVE: Can you share a story you heard from your audience?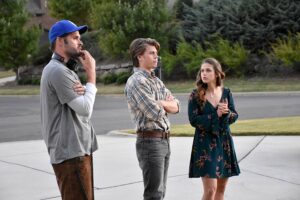 CD: There are a bunch of stories I've read in the reviews and some personal texts about how people have been affected. But I think the most important things I keep hearing are how much young adults are loving it and the conversations that are happening after the movie. I had an actor friend who's not a Christian text me the morning after the premier to say he woke up thinking about the film. And it made him want to talk further about faith over coffee. So those convos are always cool.
DOVE: What do you make of the difference between the Rotten Tomatoes response and the audience response?
CD: Critics hate faith films. Period. So the critical response is something was prepared for – they have high praise about many facets of the film. Kris Kimlin's cinematography, Dan O'Brien's editing, Paul Mills' score, the acting, direction, etc. So their review will sound great and then it gets to the content part and that's where it always goes downhill. They just don't get it. "The Movie is good… until God shows up." It's like reviewing a horror film and saying "The movie is good, until the monster shows up." 
Faith discussions are part of what the genre is, and what our audience expects; just like a horror fanatic is gonna expect the monster to show up. However, I'm way more interested in that it is completely resonating with our audiences and they are coming back to see it again, and bringing friends! It means something to them and you can't beat that as a filmmaker.
DOVE: Why do you think the audience response has been so strong?
CD: They are craving authenticity. Run The Race feels like real people having real conversations. It explores Multiple layers of love, family, life and the faith journey that many people are in the middle of — there's enough emotional strata for different people to find an affinity to certain characters and want to go along on the ride to see how our heroes make it work in the end. This is a very inclusive film.