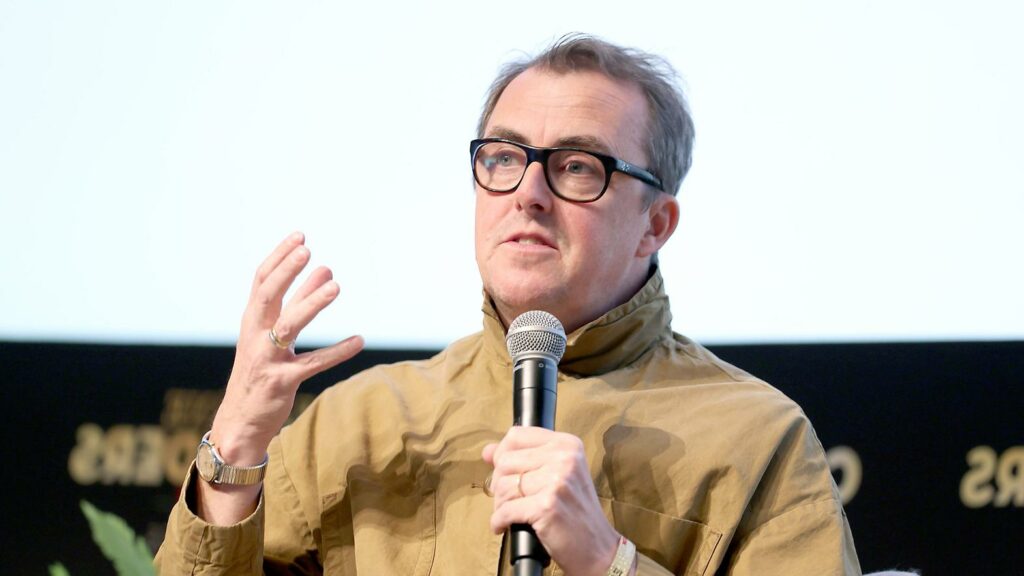 By Jacob Sahms
The lyrical animals from Sing are back in writer/director Garth Jennings' sequel, but this time they are trying to break into the big time with a show to capture everyone's attention. The Englishman's gifts for humor, music, and heartfelt character development are all on display, with a cast featuring returnees Matthew McConaughey, Reese Witherspoon, and Scarlett Johansson, as well as newcomer Bono. From his studio, Jennings shared about the joys of making the sequel, and what he hopes audiences will pick up along the way.
Sing implies a certain amount of musical influence, but nothing could prepare audiences for the animated musical that used well-known tunes like Queen's "Under Pressure" and Leonard Cohen's "Hallelujah" to advance the story, with movie stars sharing their vocal gifts. With the sequel, Jennings delivers a sequel that crosses over from U2 to Whitney Houston to Billie Eilish to Coldplay, but he says they didn't aim to target different subsections of the audience.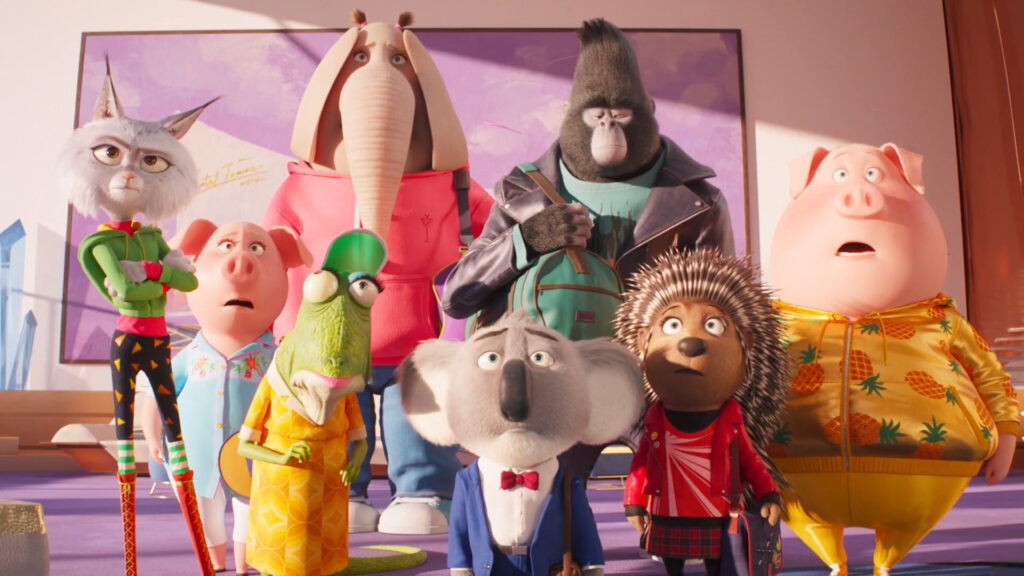 "We never went in trying to capture certain age groups, but following our own musical instincts," mused the director. "I come from a very music heavy family, saturated culture where I made music videos before I made films. So I'm from that world of merging music and pictures together. Honestly, when I was making videos, we discovered that if you loved the song and you found an image that captured what you loved about the song, you had a good shot at finding something that would connect with other people."
"I think that if the project is rooted in passion you have a shot at connecting with people, I really do. I think if you love what you're doing, then there is a chance that you can make it into the audience's heart as well. If you just begin with something cynical and popular, I think especially teenagers are wise to it: 'Okay, they're trying to appeal to me, they're trying to be my friend.' I have four sons and I know very well that the minute I try to be "Cool Dad," it's just game over!" he continued, arms in the air and chuckling.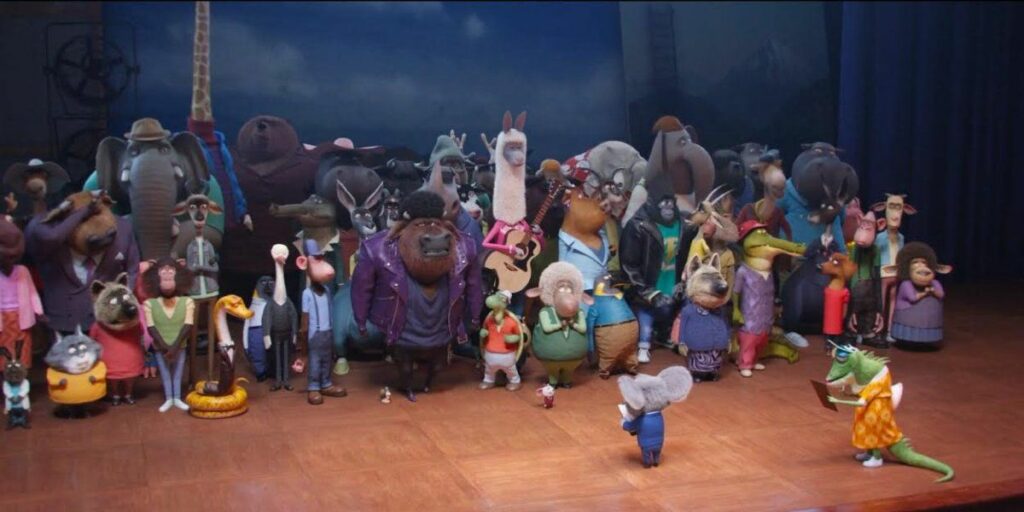 Jennings' knowledge of music certainly grew as a music video director, but his connection to the music runs back to his childhood. "The radio used to be an eclectic mix with everything in there from Barbara Streisand to disco to avant garde punk and no one thought anyone about it," he mused, thinking back to his early memories of music. "Even the artists I used to listen to growing up, each track on their album was totally different from the one that preceded it. From jazz bistro track to some punk thing to something like Kiss – I don't even know what genre that is!"
That musical influence shows up in Sing 2, in the diversity of the characters, their musical styles, and the soundtrack. That all of these songs are evident in the soundtrack shows Jennings' taste, but also the kind of character he has to reach out to well-known musicians and unheard of ones. "There are songs I couldn't deny being in [Sing 2] because they just felt right. One of them is by a band called Mercury Rev, with a song called 'Holes.' Most children and even people my age won't have heard that one before and it's a strange one. But it's like two and a half to three minutes of just that, no dialogue so that song has to hold up. It's coming in between a Billie Eilish number and something else. I just feel that this is going to work and we have to go with that."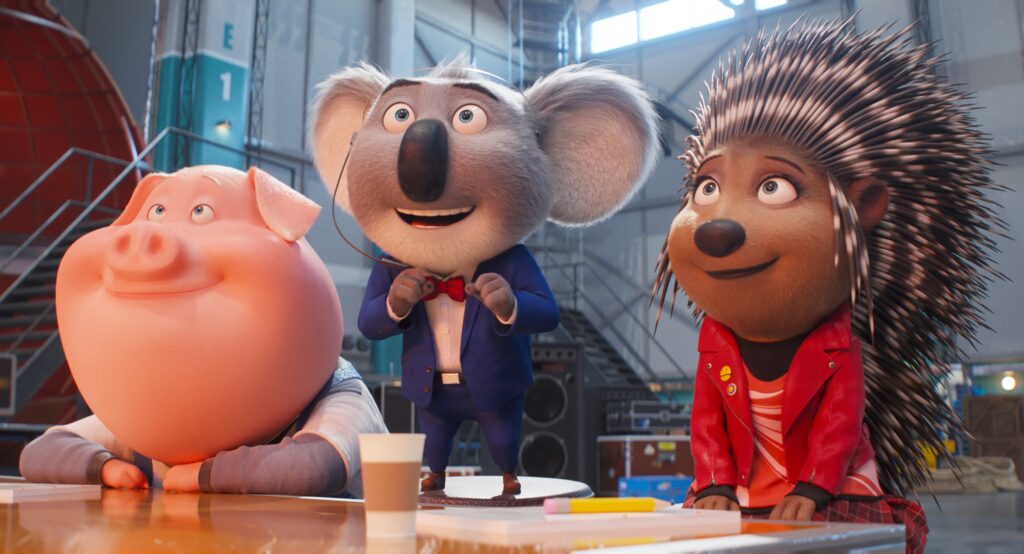 Jennings' sense of humor, and humility, shine through as he speaks, sharing his joy about music and animation, while also crediting a host of other people for who he's become. "We came from a really tiny little house and no one in the movie business for two hundred miles in every direction!" the director shared, reminiscing. "I thought making movies was what someone else did. But my Mum and Dad let me do my thing, and encouraged me. It helped having a great funny kid sister who would always be in my shows and films."
"I was quite a goofy kid so going to school, there was a great drama teacher who encouraged everyone to be in his plays. Once you've found that, knowing that you're part of something, there's no going back. Now, I'm working with hundreds of people pouring their passion into making the movies."
Jennings' fans will be happy to know that one of the things that has kept him involved on multiple levels of making Sing 2 is that he returns as Miss Crawley's voice. He had mocked up the character for the initial film in a peripheral role, but in the sequel, she often saves the day.
"It wasn't like an instinctive thing. You start with storyboards and animate them in a rough way, and the same thing goes with the voices. You just use people from the office to create a rough version of the scenes. It just stuck; it just worked. We tried recordings of other actors' voices against it, but we all just kind of liked it."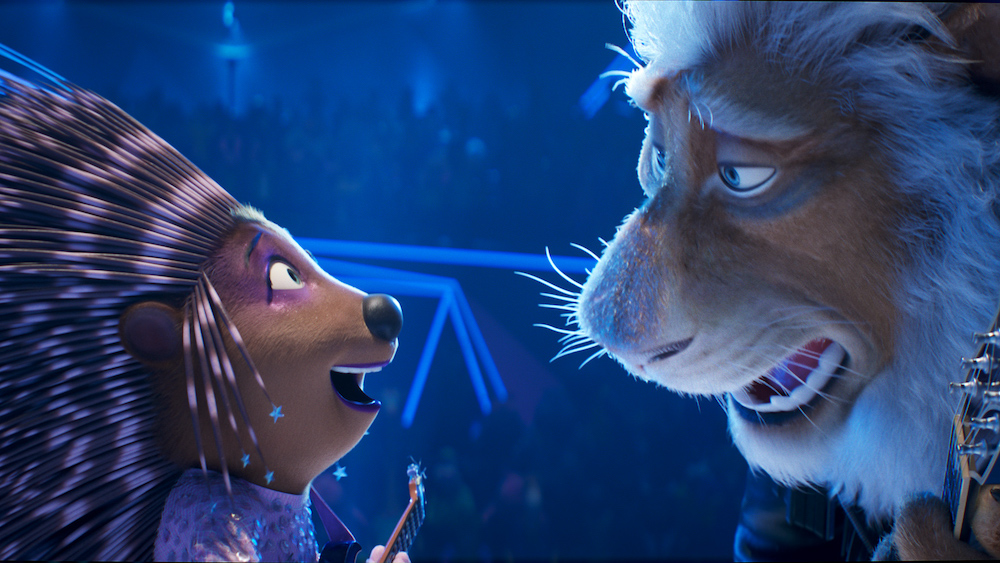 And then, with a creator's pride, he added, pointing over to the mic in the corner, "I love being Miss Crawley, recording right there!"
The community that fostered his abilities still resonates with Jennings, and he hopes that shines through the film. "We are often told to follow our dreams, but it's rarely followed up with, 'It's going to be tricky, you need some friends. You're going to need love and encouragement, all the way,'" he proposed. "Even if you get there, you're going to need help. This is the last few minutes of all the work I've done on this movie and I've never needed my family more than I need them now. It's a wonderful journey to have people by your side."
"I see those issues come up in my four sons in all their forms," continued Jennings, aware that his story transports real world issues into an animal, animated world. "With the world of Sing 2, it's a vibrant place for the journey that's universal. At a simple level there's something relatable about something between where you are and where you want to be."
"I love seeing that these characters are going through a journey that's going on inside of them. That they recognize they have this potential, in this movie a musical theater thing, but everyone can relate to believing 'I can get to that place over there.' But it can be scary because you have to own that feeling, and then you've got to be brave. Not that people will encounter big bad wolves but rejection, the simple thing of someone telling you you're not good enough or yourself saying that. At some level, we've all felt that barrier between what we are and what we could be, the best version of yourself. That's such an interesting area for me."
Thankfully, Jennings is pursuing creativity and community in an entertaining, accessible way that families can enjoy, and celebrate. Hopefully, some of those in the audience will hear their call reflected in the music, and the art they grow up to make one day will be thanks to the stage that the director is happy to share with the world.
Sing 2 debuts on December 22.