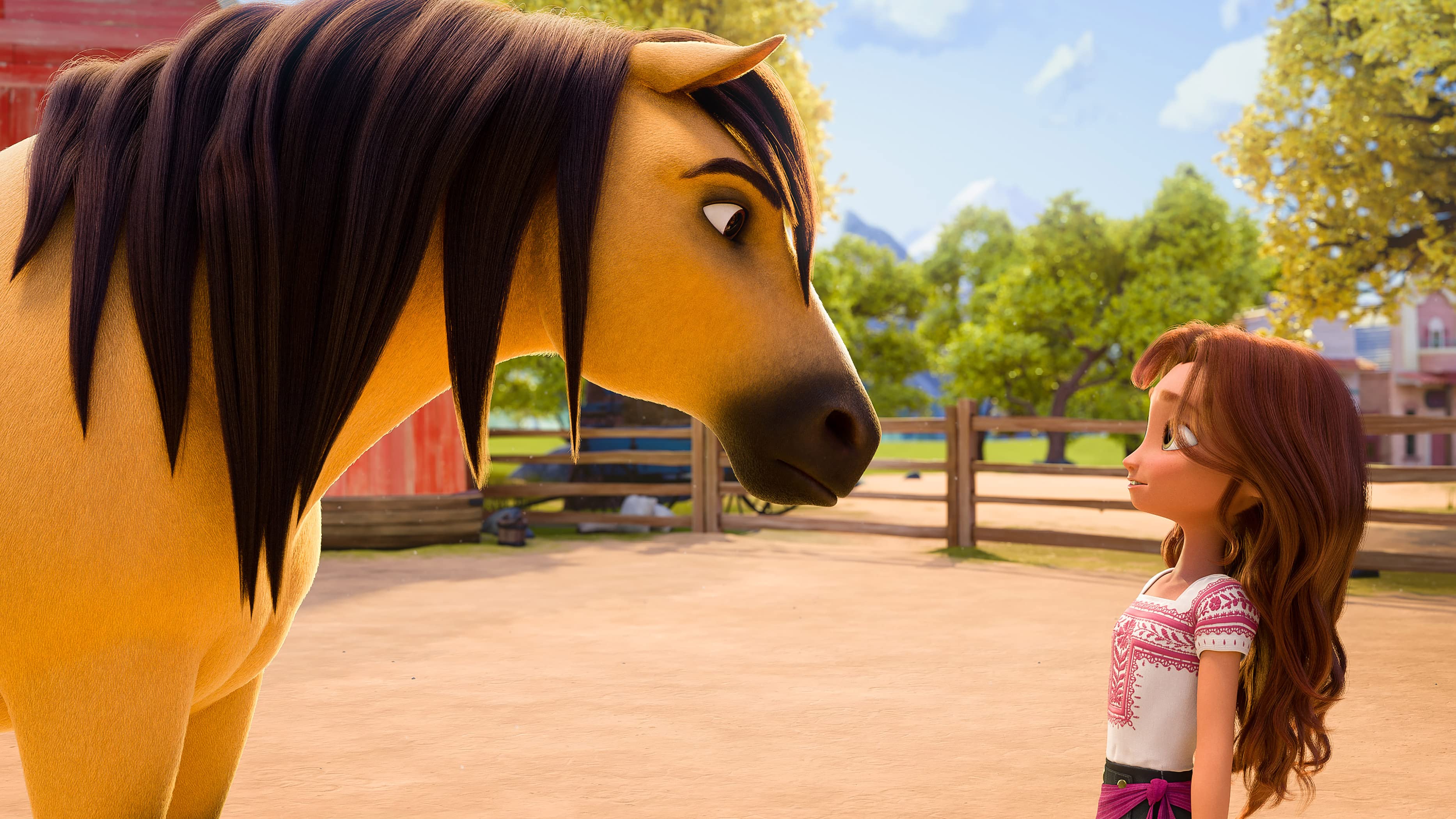 By Jacob Sahms
In 2002, Dreamworks Animation delivered Academy Award-nominated Spirit: Stallion of the Cimarron with Matt Damon and a score from Hans Zimmer. Nineteen years later, director Elaine Bogan leads a trio of young actresses, Isabella Merced (Dora and the Lost City of Gold, Instant Family), Marsai Martin (Black-ish, Little), and Mckenna Grace (Gifted, Troop Zero), into action in the sequel based on Netflix's Spirit Riding Free, Spirit Untamed. The four women shared their perspective on the story of the three empowered young women and one special horse who battle a team of rustlers, and prove they're capable of doing more than everyone thinks possible.
"What is the most important thing to think about when moving on to a new project is, can I fully and deeply relate to these characters, or at least some of them in a relatable way?" shared Bogan. "I've been riding horses since I was eight or nine years old, and I've been a woman in the world that can be daunting and scary. So right away the theme and the messages in the story felt very real to me. I was hopeful I could tell a realistic story."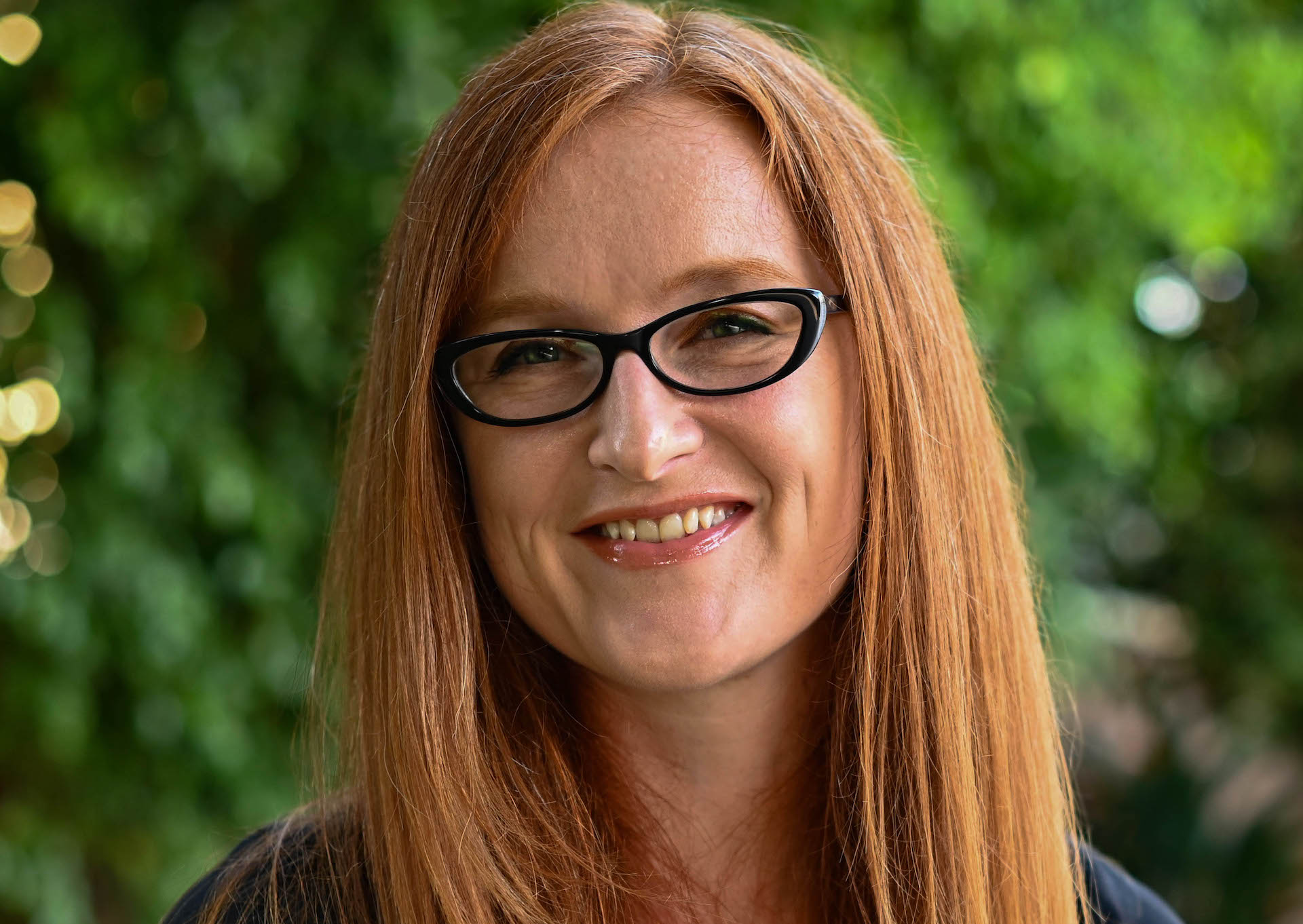 "Telling a story about young women told by women was crucial. It was so important that we reflected the messages and the characters that we were portraying on screen by trying to replicate that on our own crew. I ended up working with some of the incredibly strong and talented women that I've ever met. Because of that, with all of those voices behind them, they reflect that in their characters. It's not until we support and help usher in diverse and different voices through authentic storytelling that more stories will be out there to be seen."
Three of those young women, Grace, Merced, and Martin, are all teenagers, and they provide warm answers about the fun of making an animated movie. "I love getting to do regular acting but it's fun to voice act," admitted Grace. "You get to be overly dramatic because you can't emote with your face. [She demonstrates visually and vocally.] You get much more into it to be able to help them animate all of the emotions!"
No stranger to being the lead, Merced added that the film felt more realistic than most of the other options she'd seen, with several comparable films in her resume. "It feels right and natural for the characters to do what they're doing because the friends support each other, and teach her to horse ride," said the actress, who has played Dora vocally and in live action film. "My niece loves this movie, and it's great because kids are very influenced by the characters they see on screen — and here are young female leads."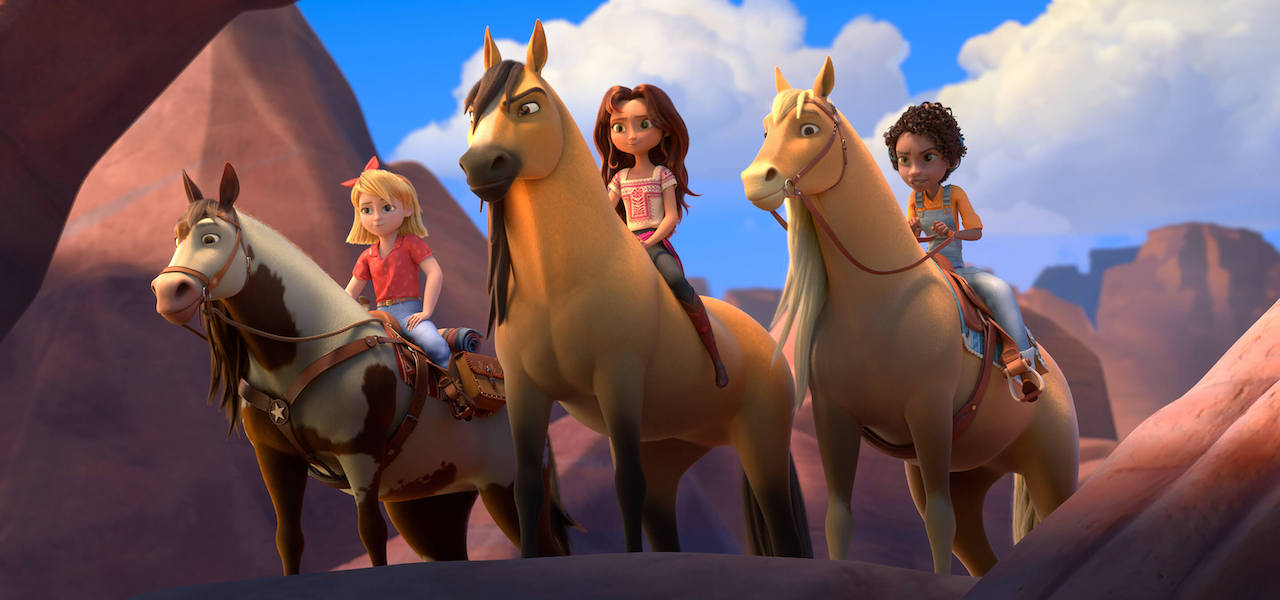 Added Martin, "In the recording sessions, you can be yourself, in your sweats and imagine what you're doing. But it means the world to me to change the narrative, to show a different perspective. We can do the exact same thing that a boy with a dog can do! It's important to have films like this for us to do but for the girls who watch to see something different. 'This is an amazing film, but that girl looks like me or my friend,' and gives them something to relate to."
Bogan has been drawing dragons, trolls, and big monsters since she was a child, not just as an animator on Netflix's Trollhunters and different How to Train a Dragon series. Spirit Untamed brings her full circle, though, because she's been riding horses and drawing horses since she was eight or nine years old. It's why she cares deeply – both for the horse side of the story and as a young woman growing up having adventures. It's encapsulated in her favorite scene in the film, at the Ridge of Regret.
"One of my favorite scenes as far as visuals and sounds was when the three girls have to walk across the Ridge of Regret. There were so many themes and feelings that we wanted to use to convey the exact emotions. It's one of the few scenes that completely cuts out the score, so that all you hear are their tiny, timid voices and the wind. To me, that became something that fell out of the rest of the movie to evoke the feeling that this is it — if we make it across here, we've done it. My hands still sweat a bit when I see it because I know I don't want to be up on that ridge on a horse."
Together, these women joined forces with others on the crew of Spirit Untamed to deliver a funny, fast adventure that reminds the audience of what women can do. Hopefully, there will be more stories like this to come — reminders that girls can do anything a boy and his dog can do.
Spirit Untamed debuts June 4 in theaters.