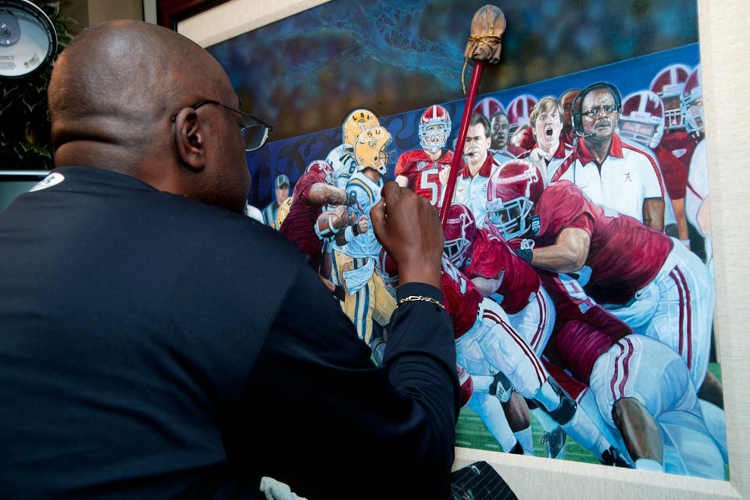 By Jacob Sahms
"It's like a dream."
That's how Steve Skipper sees the film that is coming to theaters about his life, Colors of Character: An Artist's Journey to Redemption, on November 11 and then available for churches on the Faith Content Network through December. An untrained artist, Skipper went from drug-addicted gang member to becoming world-renowned, as the first African American to complete artwork sanctioned by the University of Alabama, NASCAR, and others. Now, through the film, audiences everywhere can hear Skipper's powerful story of faith and redemption.
Skipper still shakes his head talking about how God miraculously redeemed him from a gang. He knows it's a God thing, and he wonders sometimes if any of his fellow gang members are still alive. "You're not supposed to walk out of the gang."
"I think that what stands out to me the most is the night I got saved. The way they have portrayed that is – some young men were hired to act to play me and young men who got me to go to church that night, and a guy who was waiting for me outside of church. That night, I had a plan that I would go in, because the guy kept talking to me about Jesus and I wanted him to stop. But afterwards, I was going to meet a guy who was bringing me some speed. The guy [in the film] looks at his watch and got tired of waiting to sell me drugs and walked off. God's plan was for me to stay for forty-five and get saved."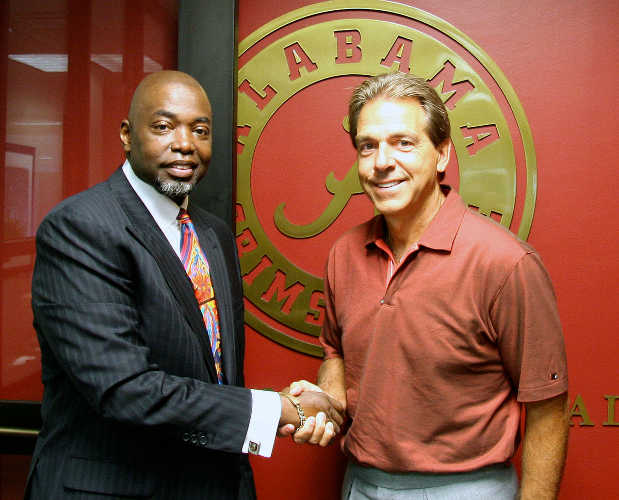 The former gang member knows that most people can't understand life in a gang like the Crips, who targeted people who had a "feverish amount of dysfunction." "I had qualified because you had to get jumped in and fight ten people," he remembers. "I tore apart ten guys thinking about the anger I had at my mom. The normal person isn't exposed to this – it's not the Boy Scouts but a gang that Satan actually runs. It didn't stop when I got out of it, but the minister who ministered to me the night – the spirits messing with me weren't going to respond to an ordinary preacher. He was anointed in a way that really got my attention and hit my soul. God has a way to look into your soul. The way of the transgressor is hard."
So that night, December 23, 1976, at 9:46 p.m., Skipper accepted Jesus into his heart. He understood what Jesus meant to say, "Come to me all who are heavy laden and I will give you rest." He says that when you're tired of sin, and someone gives an effective witness, the message is going to matter.
As an artist, Skipper has been commissioned to do work for the late Derrick Thomas' family, Doug Williams (Washington Redskins), Nick Saban (University of Alabama), Jason Witten (Dallas Cowboys), and other athletes.
"There have been a tremendous amount of people God blessed us with," he admits. "Getting permission to do a painting commemorating the life of Davey Allison made me the first African American to be sanctioned by NASCAR. It's funny, but not long ago, the guy who did my licensing for NASCAR thirty years ago interviewed me! We faced a lot of resistance but we got it done."
But Skipper warms to the subject when he talks about the painting he did of the Rev. Dr. Martin Luther King, Jr. "I didn't realize that Dr King had traveled to the Bahamas because they didn't tell anyone. He had just been nominated for the Nobel Peace Prize, and J Edgar Hoover was angry because he wanted to get the award for himself. So they went to alleviate the stress of the death threats and took King to the Bahamas, but they found out that the airport lines were tapped and the FBI knew they were here. He came to stay with Adam Clayton Powell, who took him to a place in the Mangroves of the Bahamas. Once they got him in there, the FBI couldn't get him. He experienced the most peaceful experience of his whole life there."
There, King wrote the Nobel Peace Prize acceptance speech, a story Skipper didn't know until he traveled to the Bahamas with a friend and was commissioned to do the work. Skipper took pictures, returned to the United States, painted the artwork, and then returned to the Bahamas for its unveiling.
Now, Skipper is most excited by the way his story may impact young people, potentially encouraging them to pick a different path than he took. "Some of the gangs are more sophisticated than you think, with older people behind the kids you see. On the inside of every person in a gang is a person who wants to be free. Never underestimate the power that goes with salvation. The fear of the Enemy is something we focus on too much. There is nothing in hell that can stand up to the gospel. There are people who are tired of this stuff and they are really looking for an alternative. The best alternative is Jesus Christ – it fills every hole in us, every longing. Never minimize what you have in Jesus Christ, in the love of God. There is no one who has ever been born who didn't know the desire to be in relationship with God."
"The longing in their souls can only be satisfied by one somebody: Jesus Christ."
Colors of Character: An Artist's Journey to Redemption debuts on November 11 in theaters and runs for four days.