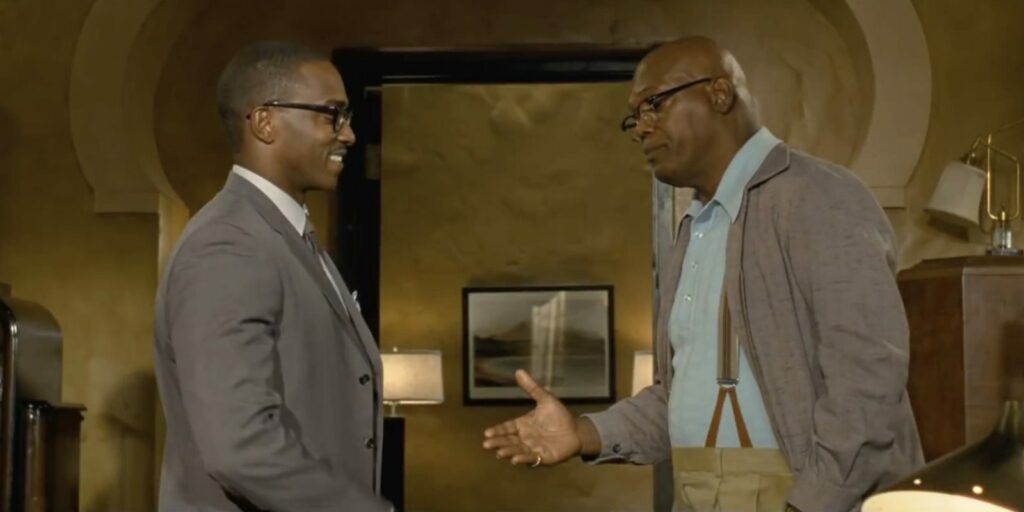 By Jacob Sahms
How interesting could a movie about buying land and starting banks really be?
Starring Anthony Mackie, Samuel L. Jackson, and Nia Long, based on the life of Bernard Garrett, director George Nolfi's (The Adjustment Bureau) The Banker proves to be incredibly entertaining – and insightful into the life of a man who saw an opportunity to better his family and his community. Pursuing his own interests in numbers, investments, and property, Garrett (Mackie) used his gifts with numbers, and people, to become the first major black landowner in Los Angeles in the mid-twentieth century.
While there are serious issues in play here, like racism, classicism, and other forms of injustice, Nolfi shows the humorous side of what happens when two black men, Garrett and Joe Morris (Jackson), use a white friend, Matt Steiner (Nicholas Hoult), to "front" their company. In an extended montage for instance, the two black men teach their white buddy to play golf (to various levels of success), do investment math (starting with real basics), and act like the articulate head of a major bank. [If you've ever tried to teach someone how to tie a tie, swing a club, or smoothly eat a lobster…] The beauty of the moments shared are the way that the contemporary society of the day saw African Americans as less-than, while these two men shared what they knew about grace with a man who had less than they did, but was a person of privilege because of the color of his skin.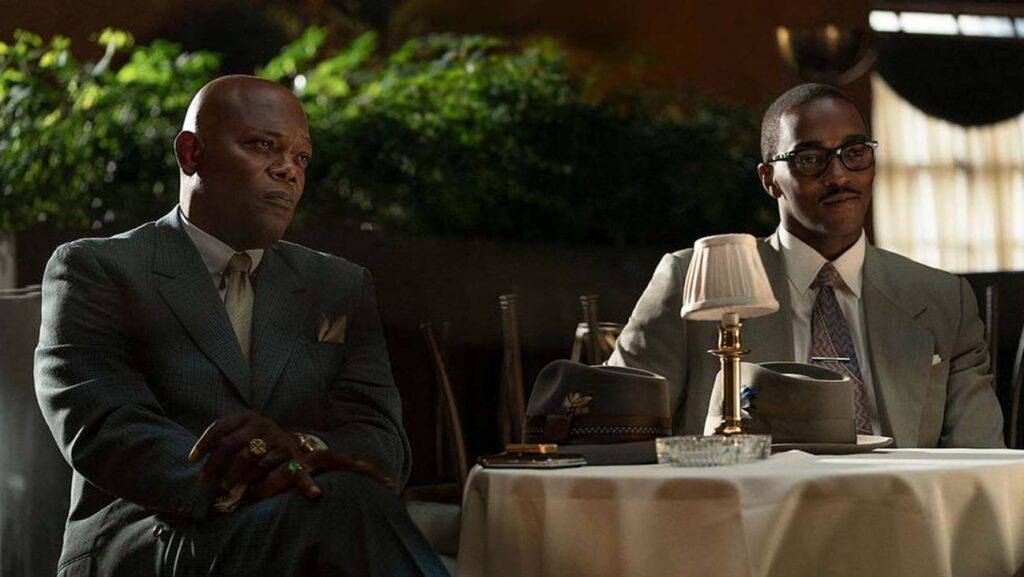 The performances are extraordinary as Mackie's straight-laced Garrett balances Jackson's wild Morris, bookending Hoult's straw man, who becomes more than just a figurehead. Throw in the way in which Long articulates the impact of Garrett's first wife Eunice, and you have four actors delivering a stunningly beautiful period piece. Significant H. Scott Salinas' scoring blended with spectacular acting, above average scripting, and slickly shot scenes and segues deliver an AppleTV+ masterpiece, begging the question, can this be for AppleTV+ what The Mandalorian did for Disney+?
Let's not miss this: All of the significant components combine to put The Banker in the neighborhood of The Help or The Butler, films that justifiably entertained but that also nailed moments in America's past that we should all be aware of so that we don't let the same things happen again. What Garrett accomplishes is a game changer for his family and the way that minority loans and property were considered, confronting a system that had been engineered to keep the exact thing from happening that happens. Sure, there's the fact that Garrett doesn't get to fully enjoy the fruits of his hard work because society simply wouldn't accept him (never mind that he was actually imprisoned for fraud because fronting a white man was the only way to pull this off) that makes it carry more weight. In many ways, Garrett was Moses carrying the financial ball forward for the black community, but unable to see the ball over the endline into the Promised Land.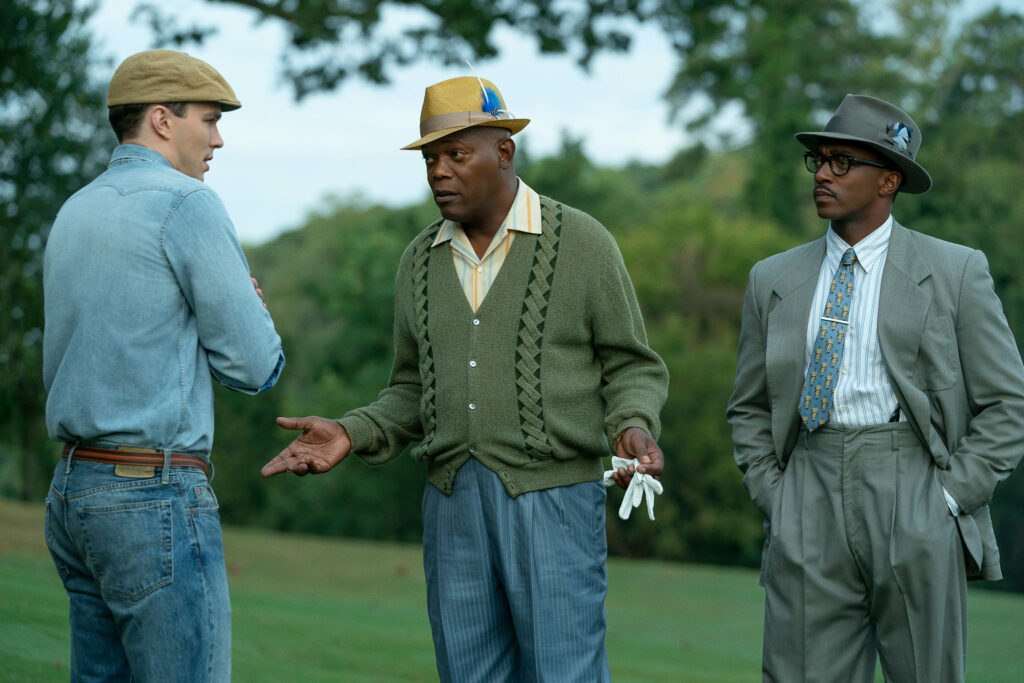 For the rest of us, this is an opportunity to see the kind of racism that integrates system and the teamwork it takes to overcome it.
The Banker is in theaters now, and streams on AppleTV+ on Friday. It contains some objectionable language and is rated PG-13.