Dove Channel brings a large selection of family-friendly content via streaming services across a variety of platforms like Roku, Apple TV, Amazon Prime, Sling, and as a 24/7 Digital Linear Channel. Parental controls via Dove Channel's exclusive programming filter allow for informed decisions and preferences for a personalized experience for each family's sensitivities. Available on iOs and Android, the Channel's viewing allows for audiences to enjoy the selection at home and on the move.
With forty-six million faith-driven consumers, Dove Channel has a fantastic capacity to reach families, including the 48.8 million households with children. Seeking safe, suitable content for their families, these consumers have chosen to guard their hearts by filtering what they watch. Thanks to the evaluation done by Dove.org, families can count on the thousands of titles available being approved by Faith & Family Dove Seals.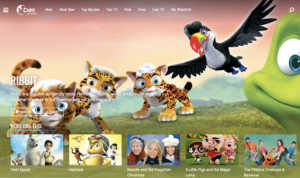 Dove Channel was created as a response to high consumer demand for family-friendly content, offering viewers safe programming options and full access to the largest library of high-quality values-based films, children's programs, documentaries, and series in the streaming marketplace. Dove Channel has been serving as an invaluable resource for families across the country for twenty-eight years.