by Edwin L. Carpenter – Editor, The Dove Foundation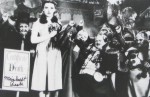 The Munchkins from the classic film "The Wizard of Oz" have gone from the yellow brick road to the Hollywood Walk of Fame, thanks to a lot of determined people. The list includes Steven Spielberg, George Lucas, Ted Turner, Roger Ebert (who wrote a letter of support from his hospital bed) and many others. Roger Baum, the grandson of Oz creator and author L. Frank Baum, wrote a letter himself to the nominating committee. The official ceremony will take place in October or November this fall. The remaining Munchkins, ranging in age from 86 to 92, will receive stars.
This list includes Margaret Pellegrini, Karl Slover, Meinhardt Raabe, Mickey Carroll, Jerry Maren, Clarence Swensen, Ruth Duccini, and Olga Nardone.
Karl Slover, besides playing the trumpeter in Oz, also appeared in the films "Block-Heads" (1938) with Laurel and Hardy, "They Gave Him a Gun" (1937) with Spencer Tracy, as well as a few others. He is the last surviving member of the famous Singer Midgets. He was three feet tall when he appeared in Oz, but he wasn't finished growing. Today he is four foot four. His father was six foot six!
We began our interview with Mr. Slover by congratulating him on his upcoming honor of receiving a star on the Hollywood Walk of Fame. "You have to be pretty proud," I said to him. "Yeah, I am" he chuckled. "I think they took long enough to decide to put us in there," he said. "There are things in the movie which you never hear," he said. "You don't hear any foul language or swearing, and that's why the picture keeps going."
We thanked him for his view on this issue, and we suggested there is a need for more films today in that category. "That would be nice," he agreed.
We asked how he landed his role in Oz. "I used to be with the largest midget show in the world," he said. "Leo Singer was the owner of the midget show. It was called the Singer Midgets. And through him is how I got the job in 'The Wizard of Oz'. In fact, I had been in other pictures besides. 'The Terror of Tiny Town,' an all-midget cast cowboy picture, with Laurel and Hardy in 'Block-Heads,' and another one was with Spencer Tracy in 'They Gave Him a Gun.' And the next one was 'The Lost Weekend' with Ray Milland. There was a midget lady and I who played the children in the baby carriage!"
Mr. Slover mentioned "Magic Trio," another picture he was in. He also worked in New York in "Bringing Up Baby".
"It made me kind of happy when they need you so much in different places," he said. "It keeps you busy." He added he is most proud of his work in Oz. "I've been going to all of the Judy Garland festivals," he said. As a matter of fact, he just attended one recently in Syracuse.
We asked what it was like working with Judy Garland. "She was really nice," he replied. "She was only sixteen years old. She wanted to sit down and talk with us. The director told her, 'Judy, we need you. You can sit with the little people maybe in a half an hour or so.' He chuckled about it. "She was really nice."
Mr. Slover said he owns a copy of the book, "The Munchkins of Oz," written by Stephen Cox, which gives a history of his beginnings in Hungary and his migration to the United States. He is proud that he is an American citizen and that, "I was the first trumpeter coming out" in "The Wizard of Oz."
Meinhardt Raabe is another one of the surviving Munchkins who is proud of his star on the Hollywood Walk of Fame. When we first called Mr. Raabe to set up a phone interview, his sense of humor shone through immediately. "I'm available anytime except when I'm sleeping!" He added, "I'm awake right now." We ended up doing the phone interview right on the spot.
In our first question we asked what he felt about receiving this great honor. "Well, let's put it this way," he said. "I have been in Hollywood and have seen the Hollywood Walk of Fame and it is, shall we say, an illustrious situation, along with the theater district there. And everybody who goes there—it is the primary thing they came out to see. Having a chance to be commemorated there is an honor, and the little people who worked in the picture—I think it is deserved, and all of us appreciate it."
We next asked Mr. Raabe about a few of his favorite scenes from "The Wizard of Oz". "Well, naturally the opening (in Munchkinland) when the good witch appears and Dorothy asks 'What are Munchkins?' That of course introduces the word 'Munchkin' to the public. It was a word that was coined by the author Frank Baum. That word 'Munchkin' became standardized. Everybody on the street, everybody you talk to uses that term. That to me is one of the high points. And of course, personally I have to refer to my own scene standing alongside Judy Garland, presenting the death certificate which, of course, is the one thing people from all over the country remember, including the lines—children and elderly people ask me to repeat the lines to verify that I'm still it!"
The lines Mr. Raabe refers to, of course, are these: "As coroner, I must aver, I thoroughly examined her, and she's not only merely dead, she's really most sincerely dead!"
Dove asked Mr. Raabe what Judy Garland was like to work with. "Naturally we all looked up to her for her singing ability. For a number of little people who were there, individually, we didn't all have a lot of interaction with her. So the final scene at the Mayor's office was the one scene that everybody remembers."
Judy Garland signed a picture for all the individual Munchkins, and she wrote the following to Mr. Raabe: "To Meinhardt, a perfect coroner and a perfect person too. Love from Judy."
In addition to his role as the Oz coroner, Mr. Raabe also worked for Oscar Meyer for thirty years as the company mascot "Little Oscar, World's Smallest Chef".
We asked about his memories of working for Oscar Meyer. "Well obviously, over that period of years we had many different situations and the object was to familiarize the public with the Oscar Meyer product. Also, I had many opportunities, putting on cooking schools or food shows to let the public know proper methods of preparing food."
"Was it fun sometimes?" we asked. "Oh yes," he replied. We asked about his education, as we had read he was well educated. "I earned my bachelor of arts degree from the University of Wisconsin in 1937," he replied. "After that I traveled for years but I received my master's degree from Drexel University in Philadelphia, Master of Science in Business Administration in 1953."
Mr. Raabe has authored a book, "Memories of a Munchkin," which was published two years ago by Back Stage Books. It is filled with his recollections of working on Oz at age twenty three, and it includes many rare photos from behind the scenes of the making of the film.
Mr. Raabe still attends Oz conventions as he can. He had just returned from one, a three day event, near Buffalo, New York at the time we spoke with him.  There is an annual "Wizard of Oz" weekend in Chesterton, Indiana, every September and we asked if he would be attending it. "Let's say I hope so," he replied. "In other words, when you're nearing 92 years of age, you can't guarantee anything!" We chuckled at his response on that one.
In concluding our interview with Mr. Raabe, we asked him what he was most proud of regarding his career. It might surprise some people, but it wasn't "The Wizard of Oz."
"Well, I think one of the major points was during the Second World War–I was too short to be eligible to fly in a military aircraft, but I was the smallest licensed pilot in uniform. I didn't fly the big military planes–I was a ground instructor, teaching the big boys meteorology and navigation." He also became a coast watcher, looking for enemy submarines along the Eastern seaboard.
We finished the interview by telling him we enjoyed watching him every year in "The Wizard of Oz." "Thank you," he kindly replied.
This concludes part 1 of this 2 part interview.
---
Read Dove's Review of "The Wizard of Oz"